Today Casey Helbling, founder of Software for Good, GBC, is proud to announce that Sharon Kennedy Vickers will lead the company into the future as its new CEO. As board chair and Chief Technology Officer, Casey will continue to build and support the company he founded in 2004, then reincorporated ten years later as one of Minnesota's very first public benefit corporations.
As founder of Minnesota's nationally renowned Code Switch civic hackathon, co-founder of Techquity, and most recently CIO of the City of Saint Paul, Sharon is uniquely qualified to lead Software for Good into a new era of service to the greater good. In their own words, Casey and Sharon explain how they got to this moment.
CASEY. A few years ago, I scribbled some five-year goals for Software for Good on a sticky note. The last goal on the list was the most important: "A new CEO."
By that time, I'd been leading Software for Good for a decade and a half, learning on the fly how to run a profitable business that puts people and planet first. But being a tech CEO wasn't the work I ever wanted for myself. What I love is the actual coding of software, when I can put headphones on and build something. I knew there was a limit to how far the company could go with me leading it. I also knew that Software for Good, as a company, had barely scratched the surface of our potential. We'd need a visionary CEO to get us there.
SHARON. I started my career as a developer too, but I don't love coding the way Casey does. What's always excited me about tech is the look on a person's face when I build them a tool that solves a problem for them. That's what excites me — being able to see and feel the way tech improves human lives. Long ago, I realized that my purpose in life is to use the power of technology to help people live fully and freely. That's why I started the Code Switch hackathon, which is how Casey and I met.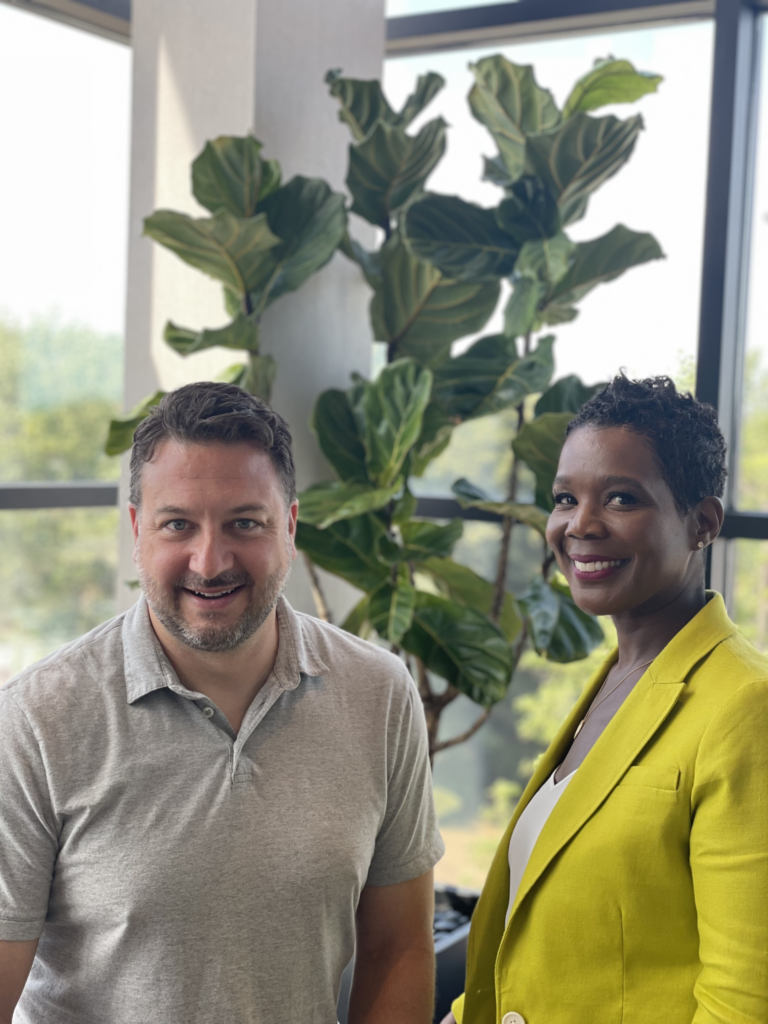 CASEY. After the first Code Switch in 2016, Sharon asked me if Software for Good might be interested in supporting the hackathon, which was a perfect fit for our mission and our values. Sharon and I have been friends ever since. Software for Good has sponsored Code Switch every year, and Sharon and I started up a venture fund to bring some of the most promising Code Switch civic tech to market.
Meanwhile, Sharon was doing increasingly innovative and high-profile work in the Minnesota tech ecosystem. When Mayor Melvin Carter tapped her to be CIO for Saint Paul, he couldn't have picked a better person to lead the city's digital transformation. I was incredibly impressed by Sharon's leadership in Saint Paul, and I was proud Software for Good could support some of it. But I couldn't help telling her, "Hey, if you ever decide to do something else, let me know." What I really wanted to say was, "Oh my God, you'd be a fantastic Software for Good CEO."
SHARON. I remember that conversation. At the time, I couldn't imagine doing anything other than leading Saint Paul's tech team to support Mayor Carter's vision. As CIO, I built a communications and technology team that looked like our community, and together we did amazing things with limited resources to make Saint Paul work better for everyone.
I am eternally grateful for the work I got to lead at the City. I'd probably still be there if cancer hadn't changed my life dramatically. Between the fall of 2020 and the end of 2021, I had a pulmonary embolism, mild heart attack, hysterectomy, a nephrectomy, and a double mastectomy. I'm happy to say I'm cancer-free today and feeling great. But that experience taught me two important lessons. First, the fact that I'm still alive means there's more work I am called to do in this world. And second, I want to do that work with as few constraints as possible.
CASEY. That's when I reminded you that Software for Good wanted you!
SHARON. Your excitement, talking about the work — I realized that leading Software for Good was exactly in alignment with my life's purpose. As much as I valued my work in Saint Paul, I was yearning for the freedom to co-create liberating technology wherever people need it. That's exactly what Software for Good is built to do. Software for Good exists to leverage software to improve the human condition — in civic tech, in community safety, in human services, in climate action. Everywhere tech can build tools people need to live more fully and freely.
CASEY. Having Sharon at the helm will have all kinds of dramatic benefits for our team — for the growth she'll enable, for the diversity and excellence of the talent she'll attract to our team, and for the culture of belonging and curiosity she creates wherever she goes. Plus, Sharon's national network of deep relationships with visionaries nationwide will give us broader scope to solve even bigger problems.
SHARON. I could not be more excited about the work ahead of us. For years, Casey and I have shared a vision of technology as a way to liberate human potential. Now we're putting that vision into practice side by side, with a team of talented and principled people who are eager to do more good than ever before. The future for Software for Good is abundant.
---
Connect with Sharon
Get to know our new CEO! Use this form to share your interest, and we'll follow up to schedule a call.
[wpforms id="4082″]