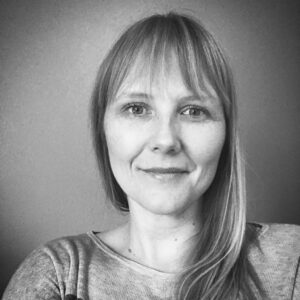 Big news: Cassi Johnson has joined Software for Good as director of product strategy. With two decades' experience in nonprofits, healthcare, and government, Cassi is an expert in helping communities solve big social problems with human-centered design and systems thinking. Her leadership will help us do more than ever before to help do-gooders rise to the challenges of our time. Those challenges have never been bigger, and we can't wait to take them on with Cassi on our team.
This is a pivotal moment for our company, our community, and our planet. The climate crisis, the pandemic, and continuing challenges to democracy have forced human beings to adapt to unimaginable change with unprecedented speed and resilience. Here in the Twin Cities, the uprising for racial justice has opened huge new possibilities for reimagining public safety and achieving the dream of equal justice. And here at Software for Good, there has never been a better time to grow. That's because, as a B-Corp, we don't measure growth by profit alone. For us, growth means helping human beings solve bigger problems, build stronger solutions, and achieve more progress than ever before.
We grow by building products that liberate more people to do more good.
That's why Cassi's human-centered approach to product strategy is a perfect fit for the work ahead. Although "software" is in our name, mobile apps and websites are only part of what we do. Before we write a line of code, our team works together with every client to understand the problem they're trying to solve — and, most importantly, to walk a mile in the shoes of the people closest to the problem. Then, as we build technical solutions, we check back with the community we're serving, every step of the way, to make sure the tools we create are ethical, sustainable, and powerful.
"Over the past few years, we saw an opportunity to do more human-centered design, more upfront research," says SfG strategist Colleen Powers. "The work we did on Housing Hub was a turning point for us. Talking with people who are experiencing housing insecurity, and building software with them, we realized that a deeper commitment to human-centered product strategy is the best way to live up to our values. Cassi's experience in qualitative research, systems thinking, and community engagement will deepen our practice of participatory design."
Creating tech that liberates people to participate in their own world is the heart of the growth we envision.
At a time when democracy is in danger at home and worldwide, Software for Good is doubling down on our commitment to civic tech — the tools and processes that let people participate in the work of self-government. Cassi knows that work deeply. She's joining our team after five years of nonstop innovation at the City of Saint Paul, most recently as Deputy Chief Information Officer. In that role, Cassi led a team of designers and technologists as they reimagined the relationship between a city and its people — during a global pandemic. The pandemic showed us that government tech can be faster, more efficient, and more responsive to human needs than anyone would've thought possible.
In 2020, Software for Good built Minnesota's COVID-19 Housing Assistance Program portal in three weeks — astonishing speed and agility for a state government project. Our code helped the State of Minnesota distribute $70 million in housing assistance funding when people needed it most. "That's the kind of scale I care about," says founder Casey Helbling. "We can have a bigger impact, more quickly, by partnering with the public sector on digital transformation." Helping the public sector transform to meet the true needs of American communities is one of our most important avenues for growth, and one of the most powerful.
But tech for democracy doesn't always start in government. "Communities are doing civic good on their own," Cassi says, "even when governments aren't innovating in that way. If there's a challenge a community needs to meet, the community will find a way to get it done, and tech can help." Our work for community collaborations and nonprofits proves her point.
Fundamentally, Software for Good is about empowering human beings to participate more freely, fully, and joyfully in their own communities. As Cassi says, "we're experts in designing processes that lift up the brilliance of people." As we face unprecedented challenges, Software for Good is here to lift up all the human brilliance we can. Including yours.