Last month, Bill Gates published a piece about the best books he read in 2013. It's an interesting list: Jared Diamond of Guns, Germs, and Steel fame; a Vaclav Smil, unsurprisingly; an entire book about the history of the shipping container; etc.
Interesting? Definitely. Diverse? Not quite. Gates even admits it.
"You may notice that there aren't any novels on my list this year. It's not that I don't enjoy fiction. I've read 'The Catcher in the Rye' a bunch of times–it's one of my favorite books ever… But I read mostly nonfiction because I always want to learn more about how the world works."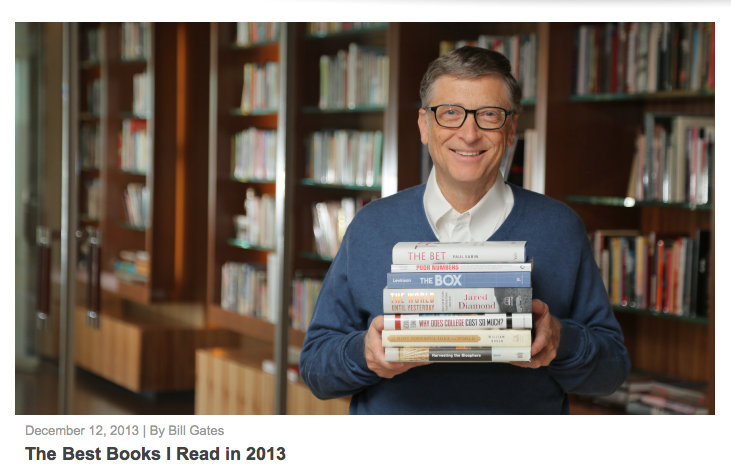 Ouch. I mean, let's be real. The fact that Gates listed The Catcher in the Rye as one of his "favorite books ever" made me LOL. That last sentence, though, just made me want to plop down in a dark corner and shield my precious, beloved novels from all of the fiction bullies.
Here's why.
Nonfiction books tell great stories, and it's so, so important to understand how the world works. But it's just as important to understand how the world could work. Enter fiction.
I'm not just talking about science fiction, though I could write another post entirely about the benefits of reading it. Nothing quite like a good sci-fi tale to shake up some preconceived notions and make the reader examine his or her own world just a little bit differently.
There's a whole lot of research already out there about the benefits of reading literary fiction. Check out these articles in the New York Times, NPR, and Scientific American, and you'll find that they all seem to reach the same conclusion. Nonfiction certainly helps us to learn, but fiction teaches us to discover, empathize, and imagine.
Technology is based entirely on the idea that we can create things to make the world better and more efficient. But before technologists can discuss information architecture, before they can build wireframes, and before they can ever write one line of code, they have to imagine.
Design is right there in the middle of the conversation. A good creative team doesn't begin a brainstorming session with an already concrete idea of how the end product should appear. Like technology, the world of design fluctuates, and like technology, it calls for an incredible depth of imagination. One simply can't practice that kind of creative thinking by reading only nonfiction.
Technologists and designers are exactly the kind of people who can benefit the most from reading fiction. Props to journalist Chris Taylor for pointing that out here.
Need some help deciding where to start? In the article linked above, Taylor recommends a new novel, one that's techy enough to make tech-centered folks unlikely to feel guilty for taking the time to read it: The Circle by Dave Eggers. I couldn't agree more and wrote up my own thoughts about the novel here.