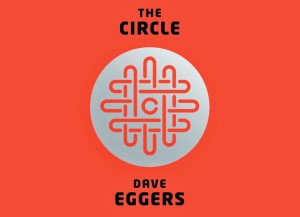 I just finished reading The Circle by Dave Eggers. Some thoughts below:
Quick Synopsis
Mae Holland is a young 20-some-year-old new hire at the Circle, Eggers' fictional (and gargantuan) Google-meets-Twitter-meets-Amazon dreamland of a company in California. The Circle dominates the Internet, its products and services connecting every technological aspect of human life. The company boasts transparency and works to convince the population that the more all-seeing technology, the better. The story follows Mae through her induction and journey deep into the twisted hierarchy of the Circle.
Background
Author Dave Eggers—of McSweeny's fame, of course—claims that the Circle isn't based on any one actual company. In interviews, he's said that he wrote the novel without visiting any large-scale Silicon Valley tech companies or interviewing any of their employees. That said, Eggers has been a Bay Area resident for more than twenty years, and while he may be sans Twitter, he can't be unaware of his prominence in the online world.
Thoughts
Part of what made the novel so eerie to me was the fact that I wasn't quite sure when it was supposed to be set. This New York Times Review suggests that the story takes place in the "not too distant future," though what that means certainly seems up to interpretation.
Why is the timing so interesting?
Mae and her fellow Circle cohorts regard the company's technologies as so obvious, feasible, and everyday, yet to my 2013 eyes, they seem not only highly advanced but also somewhat (read: grossly) socially implausible. My totally non-technical guess is that with the right combination of talent, skill, and innovation, we might be able to produce the novel's kinds of technologies in the next fifteen or twenty(ish?) years. Of course, whether or not we should is the moral dilemma that Eggers poses.
But here's the thing:
The novel constantly refers to present-day technical gurus and hits: Steve Jobs, Facebook, Twitter, and the like. Eggers even includes a line about pieces of the Circle's hardware being manufactured in Guangdong, China—the provincial home of Apple's infamous Shenzhen factories. I'm torn on whether or not these mentions stand as future anachronisms or simple points of reference for today's audience. I'd be willing to bet my MacBook Pro that by the time Circle-esque technologies become a potential reality, we'll have a handful of new Steve Jobs types, Mark Zuckerbergs, and Shenzhens to thank for it.
Overall
I should say, The Circle certainly made an impression on me. With each new plot twist, the novel made me want to tweet to the world and vow that I'd never use social media ever again. A frustrating and fascinating contradiction, to be sure.
Next up? Try these:
Happy reading!
What did you think of the novel? I'd love to hear. Send your thoughts over to @sarambsimon.