On February 28, the two of us got to speak at the state legislature, appearing in front of the Minnesota House Jobs and Economic Development Finance Commission to show our support for the SciTechsperience program.
SciTechsperience matches students majoring in STEM fields with internships in small to mid-sized companies, and provides a wage match to help companies like ours pay interns competitively. Their work contributes to the growth of the STEM workforce in Minnesota, and provides opportunities for people who are underrepresented in tech.
We were happy to support SciTech and their request for continued funding (even if we're not used to dressing up this much for work). Here are the statements we gave:
Casey Helbling, Founder & CEO
Good morning, Mr. Chairman and members of the committee. My name is Casey Helbling, and I'm the founder and CEO of a company called Software for Good.
We are a for-profit benefit corporation that builds software with a purpose. We work with nonprofits, fellow B corps and social enterprises, and other mission-driven clients to create web and mobile applications designed to solve some kind of social or environmental issue.
For example, we have worked on a food drive management system for one of the country's largest food banks, and an online tool to help teens with disabilities plan for their future.
One of our biggest challenges as a company is that the organizations we most want to work with, who are truly doing good in the community and the world, often can't afford the cost of software development. Sometimes we turn down these potential clients simply because they don't have the budget for custom technology.
Another problem we've identified as a tech company is that the tech industry is not nearly as diverse or inclusive as it should be. Traditionally, most technology professionals are middle or upper-middle-class white guys… like me. Some speculate one of the reasons for this problem is what is referred to as the "Leaky Pipeline." That is, many traditionally underrepresented folks go through training programs, college, and bootcamps, but then on the other side, either don't get a job, or move to a different, non-STEM-related field. Many argue the pipeline of diverse tech talent is relatively full, and we as employers need to do a better job of creating welcoming spaces at our companies so these graduates can see themselves in a long-term career there.
As the founder of a tech company, and a social enterprise, one of my goals is to work on the Leaky Pipeline problem in tech. That requires creating an organization and environment where women and people of color who are being trained in computer science and software engineering can find a first job where they feel seen, respected, and are contributing to something bigger than themselves.
As a company, we decided to solve both of those problems at once, by working with interns from diverse backgrounds to build software for organizations that do good in the world.
In early 2017, while we were developing our new internship program and looking for ways to support it, we learned about the SciTechsperience program through the Minnesota High Tech Association.
The program was perfect for us because it focuses on strengthening the pipeline and providing hands-on experience for people underrepresented in technology, the exact candidates we wanted to reach.
And SciTechsperience's wage match would allow us to pay our interns competitively, while working with mission-driven organizations who wouldn't otherwise be able to afford software development.
We have been pleased to use SciTechsperience to support 12 interns over the past two years. Thanks to SciTech's wage match, those interns have worked on six different projects for clients we would not have otherwise been able to work with.
One of those clients was a small organization called TC Food Justice. They pick up food from grocery stores and co-ops and deliver it to food banks and other places that feed hungry people, and they are an all-volunteer staff.
TC Food Justice needed a way to manage their schedule of pick-ups and drop-offs and their pool of volunteers. Two of our interns, Obinna and Ilhan, built a web application that helps them efficiently schedule volunteers and manage their operations on a shoestring budget.
Interns with Software for Good are able to gain hands-on experience with a variety of current software programming languages and tools. They often learn new programming skills on the job, working with types of software that they haven't seen in the classroom.
The interns we work with through SciTechsperience also practice collaborating with other tech professionals, communicating with clients, and presenting their work in front of a group. That kind of experience, showing what it's like to work in a real agency job, is priceless for young people pursuing careers in tech.
We have seen firsthand how this program contributes to ongoing opportunities and upward mobility. Our interns have gone on to jobs and other internships with local tech companies as well as large local employers like Target and Amazon. One intern, Annie Tran, even joined our team full-time!
I encourage you to fulfill the SciTechsperience program's request for funding, so that the program can continue to prepare young people for STEM careers and serve a wider array of people who are underrepresented in STEM.
Thank you.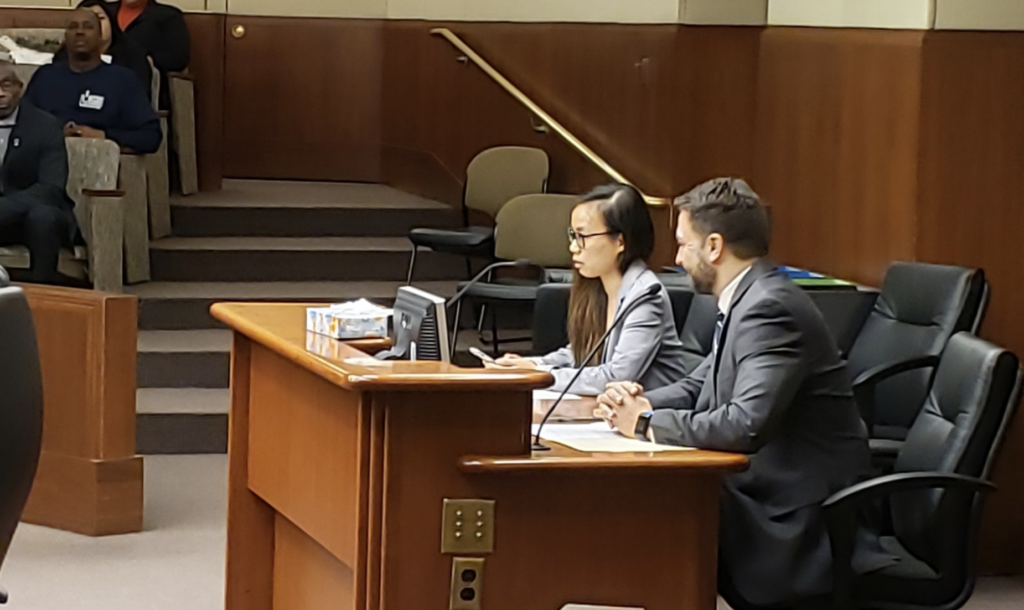 Annie Tran, Software Developer
Good morning Mr. Chair, members of the committee, for the record, my name is Annie Tran. I am currently working full-time as a junior web developer at Software for Good, but started out as an intern as a part of the SciTechsperience program.
I found Software for Good and SciTechsperience when I was coming to the end of my computer science degree at the University of Minnesota in the spring of 2017.
While applying to the Software for Good internship, there was a note encouraging us to enroll in the SciTech program — which I had briefly heard about through a college friend, but I hadn't gotten around to checking it out.
However once I was enrolled, I discovered a ton of opportunities to work with smaller businesses that I don't think I would've been able to find using the typical resources at the U like the job board or career fairs, which I had been using without much luck.
Though I found Software for Good on my own, I think if I had looked into SciTech earlier, I probably would've found an internship sooner than the last couple of months before graduation.
But luckily, everything worked out and I did find an internship… and I think I learned more useful skills in that one summer of hands-on experience than I had during college. Not only did I get to improve my technical skills by learning new programming languages and learning how to model data, I also learned softer skills like how to communicate with clients and how to effectively pair program with my coworkers.
Something that I thought was really valuable about my internship experience was that we were working as a team of 4 interns on one project where I could use my education and skills for social good.
The project was called Goodfolio and was essentially a donation platform that allowed people to donate to a handful of causes that they've selected and allowed them to see metrics on the impact that they had made with their donations.
On the project, I focused more on the front end and making sure the visual aspects of the app were in line with what the client had envisioned mostly because that's what I was particularly interested in, but I also had opportunities to learn about the back end as well.
It was really nice to have the freedom to explore our interests while also getting a well-rounded understanding of how to build a web application. And all of that with the comfort of being able to turn to the small team of senior developers and ask for help if we needed it.
All that said, I don't think I would be the web developer that I am today without the internship experience that I had with Software for Good, and I probably would have felt very discouraged in finding a tech job in Minneapolis without the SciTech program as a resource. I was born and raised in Minnesota, and most of my family and friends are in the area, so it was really wonderful to be able to find an internship here that eventually turned into my first full-time job.
I encourage you to meet the SciTechsperience program's request for funding, so that the program can continue to prepare students and recent graduates like me for careers in STEM fields.
Thank you for your time.