Let's say you have an idea for a new mobile app, but you haven't talked to anyone who might actually use it. Or your organization has a problem and you think technology could help, but you're not sure how. Or you're planning to roll out new technology across your whole organization, and you want to involve everyone in brainstorming and making decisions. You may need custom software, but you'll also need some analysis and exploration before anyone starts to code.
Software for Good has always worked with our clients to think through users and goals for a software project, but in recent years, we've started to go deeper. We've expanded our strategy services, bringing a more holistic and human-centered strategic approach to all of our projects.
In the past, we've collaboratively brainstormed app features through a process called story writing. This user-centric activity allows us to identify development tasks for a web or mobile application by thinking through the lens of its users. Each story follows the format, "As a [role], I want to [do a task] so I can [accomplish goal]."
Though we still write user stories, we've also been exploring new ways to get the best insights and ideas. We've started doing more sketching in strategy sessions with clients, using the Crazy 8's method from Google Design Sprints to quickly brainstorm and share potential features. That allows us to be open and creative when we need to be, rather than trying to narrow in and articulate specific requirements. And we're incorporating more user research and testing, making sure that what we're building is truly solving problems for people.
Driven by empathy
For last year's strategy project with HousingLink, we spoke with several potential users of the app, a new platform to simplify the waitlist process for project-based section 8 housing. We heard people say things like, "My house doesn't have to be beautiful. I just want a place I can lie down and no one will judge me. Home is the most important thing you can have."
We mapped out the journey for a person in this system looking for a place to live, which might seem straightforward: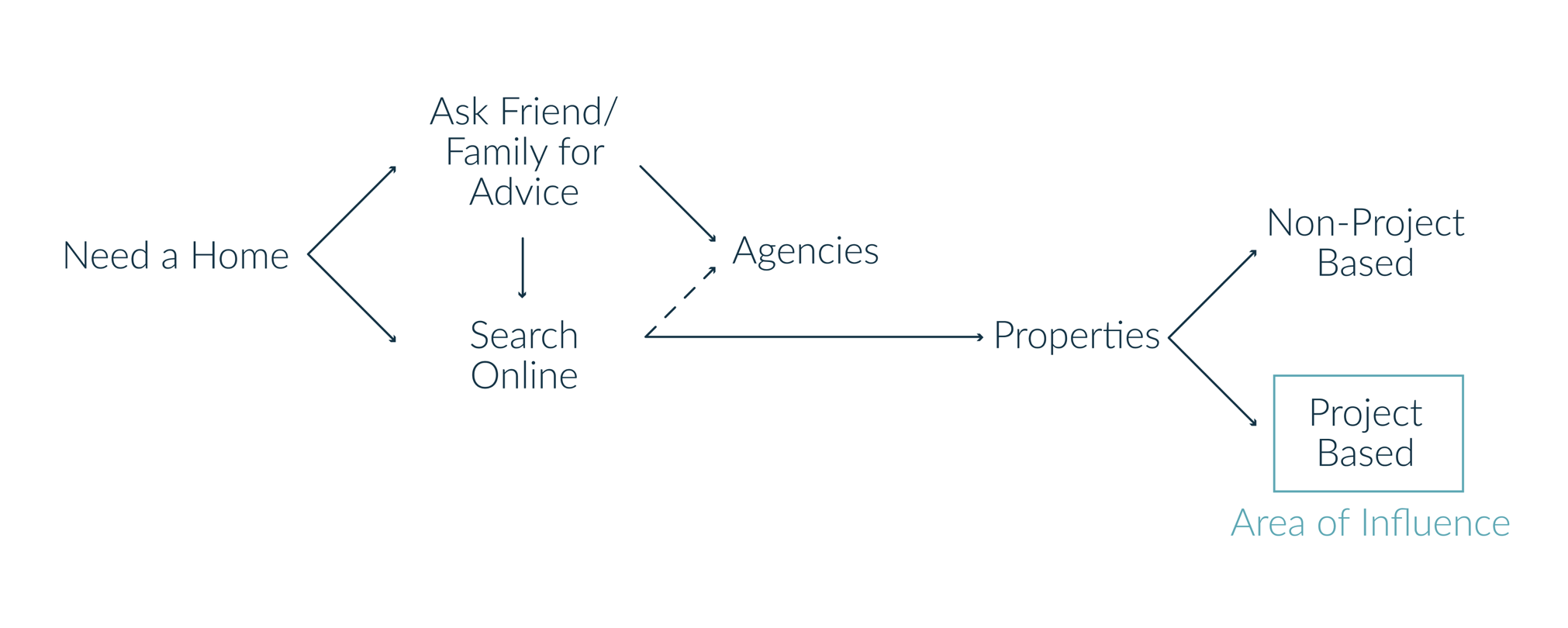 But really functions like this: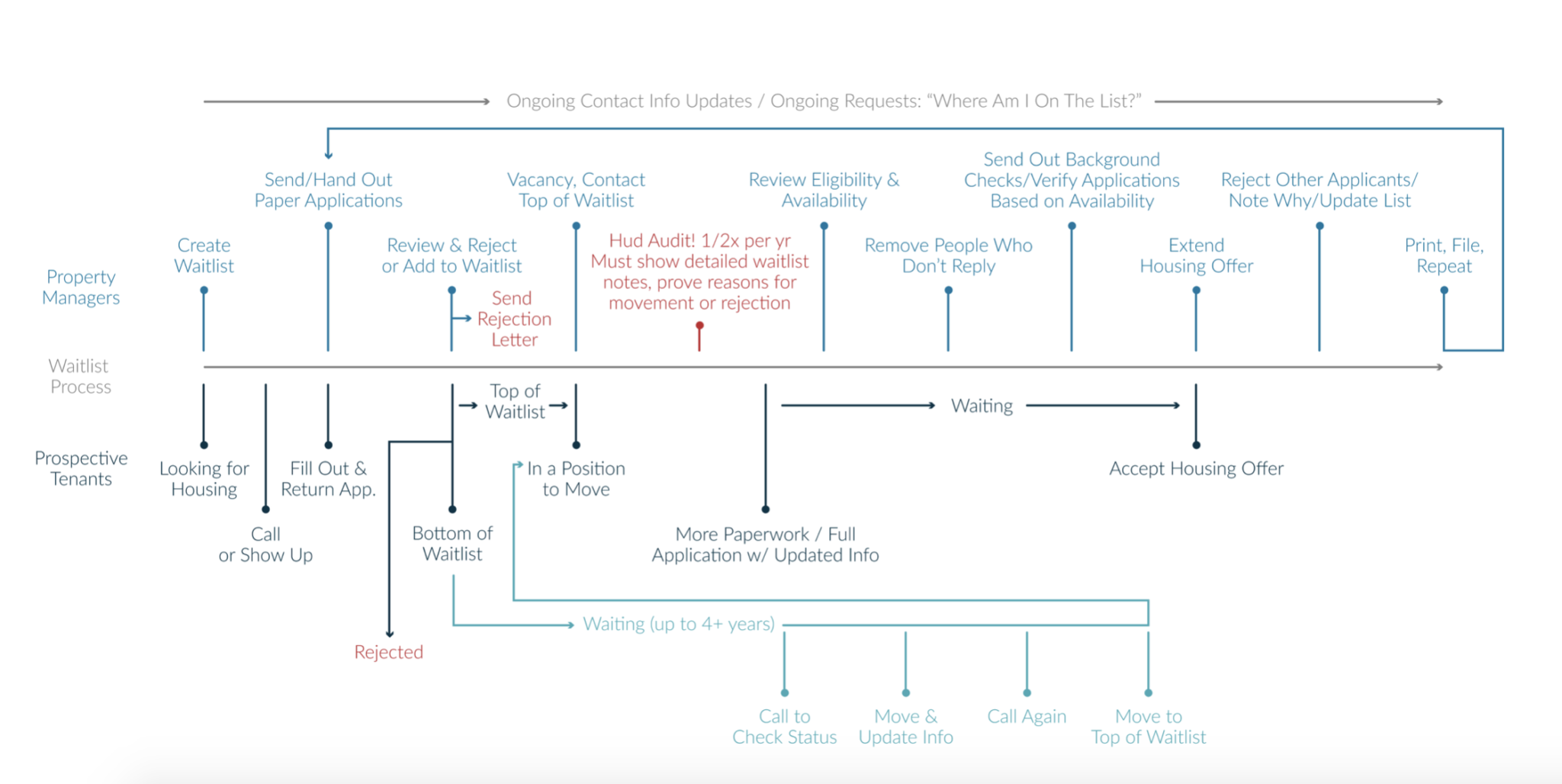 At the heart of our approach to the project was empathy. We wanted to understand (to the best of our ability) what it's really like to be without stable housing, apply for a place to live, and deal with the delays and uncertainty. Our conversations with actual potential users of the software informed how we designed the user experience, and has continued to shape the development of Housing Hub.
The project became the focus of a talk I gave at last year's World Usability Day about empathy-driven software. I explained that Software for Good's approach is empathy first, technology second. We want to build the right product to have the most impact.
A new direction: Human-centered product strategy
As we continue to apply that approach to strategy projects, it's become clear that the work we're doing is human-centered product and service design. Rather than our team simply executing a list of features, we're taking a step back to understand the purpose and context, and to consider the people who will be affected. And we're thinking beyond a single piece of software, developing product roadmaps to help our clients incorporate technology over time.
That's why I realized my job title needed to change — the work I do isn't only strategy, but involves thinking holistically about technology products, the people they serve, and the problems they solve. I'm now officially the Director of Product Strategy, and I lead the strategy team to incorporate UX, design, and content into meaningful, impactful products.
That could mean a full, six-month strategy phase complete with research, user interviews, UX design, and a long-term product roadmap. Or it could be as simple as a half-day, stand-alone strategy session that clarifies a product's users and goals.
Our strategy offerings will continue to expand and evolve, but our core purpose remains the same: to bring people and technology together to solve complex problems. I can't wait to see what we'll build next.