Special guest post written by Thomas (age 10) and Rory (age 4).
It's take your kids to work day. What that means is that today, the office has transformed from Software for Good to Kids for Good. The office is bursting with children.
First things first: getting to work. It's a rainy April day. Not our favorite weather.
Thomas says that when he got to the office, he sat down at the spot of somebody who wasn't coming in today. He went over to the lego kit. At first, he just took out the ultrasonic and light sensors. He looked through the manual and noticed that the batteries were corroded. And then he built a hand-operated ball shooter.
Next, we played Minecraft. Did you know that between the time Minecraft was released and 2013, it has had around 20 million game sales? Thomas is very good at Minecraft and likes Redstone, and he had a very fun time showing Rory how to play. (It was Rory's first time playing Minecraft.)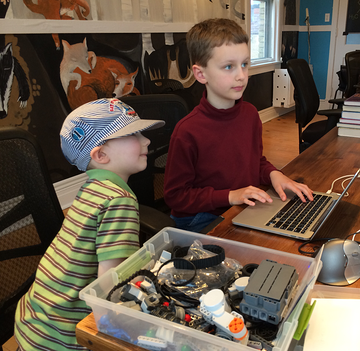 Next came lunch. We took a walk in the rain down to the grocery store and bought some food to eat. Rory had a ham, cheese, and lettuce sandwich, and Thomas had barbecue turkey, macaroni and cheese, and mashed potatoes. Yum!
After lunch, Thomas attended his very first client meeting. He said it was okay. Not his favorite, and not as exciting as he had hoped. Hopefully he'll get a chance to attend fun meetings in the future.
Rory believes work would be better with nap time.
While Thomas was attending the meeting, Rory got to take a trip downstairs to Sebastian Joe's for ice cream. He reports that the chocolate chip ice cream is very tasty. Thomas has yet to have ice cream this afternoon, but rumor has it that an ice cream trip is in his very very near future. 
One of the coolest things we've learned at our day at the office is that you don't have to wear shoes here!
Of course, we can't forget to mention this blog post! We brainstormed, sitting down and thinking about what we might want to share. We typed out our thoughts, proofread, checked for typos, and published.
Overall, we've had a fun and interesting day at the office. There might have been a touch of boring at the meeting, but meetings are important. All in all, it was a great day. We've learned a lot about the routine here at Software for Good, and maybe… we'll get a chance to come back soon!