There's nothing we love more than building great apps for organizations doing great things. Especially when they involve great beer.
We're thrilled to be building a beer rating app for the Minnesota Brewer's Ball. Called the "best nonprofit craft beer event" in the state, the party's being thrown by the Minnesota chapter of the Cystic Fibrosis Foundation to raise money and find a cure for CF.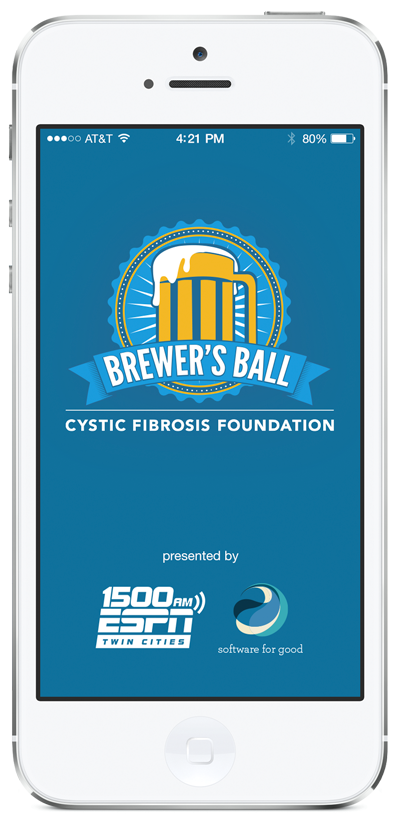 Rumor has it more than 20 of the area's best craft breweries will be represented. Just a quick glance at the list, and I've found Fulton, Third Street Brewhouse, 612 Brew, and Barley John's, along with a bunch of others.
To rate the brews, we built a native app for both iOS and Android. Partygoers will be able to use the app to decide which craft brewery wins the night at the Brewer's Ball. More importantly, after the event, the anonymous beer ratings will be used to help to create a dynamic story about the event to be shared with publications across the Midwest.
The deets:
Friday, March 28th, 2014. 7pm to 11pm
Casual dress
DQ Club Room at TCF Bank Stadium
2009 SE University Ave. Minneapolis, MN 55455
Tix here: http://mnbrewersball.com/tickets/
Drink up, and together, let's find a cure for cystic fibrosis.
Important note from the Minnesota chapter of the Cystic Fibrosis Foundation:
"The health and well-being of people with cystic fibrosis is our top priority. Medical evidence shows that certain bacteria can be passed between individuals who have CF and can lead to worse symptoms and speed decline in lung function. To limit the serious risk of cross-infection between people with CF, only one person with CF may be invited to attend any indoor CF Foundation-sponsored event. Please note: People with CF and their families should be aware that individuals with CF might choose to attend Foundation events or meetings without notifying event organizers. We strongly discourage this; however, we cannot guarantee that only one person with CF will be present at any indoor Foundation event. For more information, please call us at (651) 631-3290."