Last week my writing pal Colleen wrote about asking "Why?" This week, I wanted to write about asking questions in general. As the resident newbie at Software for Good, I have been asking a lot of questions. When you're in a role for a long time, you build up this web of context and knowledge and skills. But when you start a new role, you have to rebuild most of that from the ground up.
They say there's no such thing as a dumb question, but I have to admit, I have felt sheepish about my questions more than a couple times since I started working here. It can be especially stressful for us introverts. So what do I do when I have a question I feel like I should know the answer to? Power through it and ask anyway! Get comfortable being uncomfortable! It's the only way to learn. (Or, if it's a really silly question, there's nothing wrong with hiding in a back room and Googling it!)
Even if you're in a senior role, have been doing the same job in the same company for years, or consider yourself an industry expert, most tech roles require you to learn about topics you're not an expert in. Developers have to keep up with new technologies, tech support has to field questions about anything you can think of, and technical writers are tasked with explaining things they don't fully understand. This means more questions!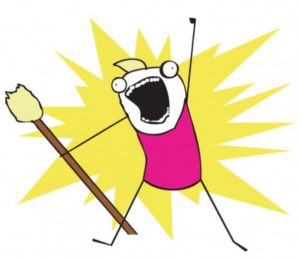 We all have more to learn, so ask all the questions!