Today Apple released iOS 8.1, a hearty update that includes many features including iCloud Photo Library beta, SMS relaying to your Mac, and last but not least, Apple Pay. As the resident Apple fanboy here at Software for Good, I waited impatiently until noon today (when 8.1 was released) to update my iPhone 6.
The update itself was quick to download, taking only about a minute. Surprisingly, after that I had to wait another five minutes, just staring at "Preparing Update…" After that I received an alert stating "your device must be charged at least 50% or connected to a power source to continue upgrading." Without asking, I grabbed a charger off my coworker's desk (thanks, Andy). The traditional install screen popped up and I felt myself getting jitterier by the minute.
Update complete, my first goal was to add all the credit/debit cards in my wallet into Passbook, where Apple Pay stores your cards. Not totally surprisingly, only one of the four cards was accepted. The other three (Simple, Barclays, and U.S. Bank) were all rejected with an error of "Your Issuer Does Not Yet Offer Support for This Card." I found the lack of support from Barclays interesting, as Apple uses them for financing and credit.
However, I was able to activate my Chase debit card. Scanning it with the iPhone 6 camera was completely painless — the only field I had to manually enter was the three-digit pin code on the back.
After uploading my card, I had the option of having a verification code texted, emailed or phoned to me.  This information appears to have been pulled from Chase's system, as it differs from the information I use on my phone and with iCloud. I decided on a text, and didn't even need to switch apps as Notification Center showed my code at the top of the screen while I entered it. Once everything was validated and confirmed with Chase, I was brought back to Passbook and shown a simplified version of my debit card.
With my card entered into the system, I trekked over to Kowalski's in Uptown for lunch. They're not a verified Apple merchant, but I knew they had new NFC-enabled purchase terminals. After grabbing a turkey sandwich, I made my way to the cash register and prepared myself. *Beep* sandwich swiped, time to pay. As I pressed my phone against the NFC sensor, the cashier gave me an interesting look. Somewhere between confusion and "Is this guy an idiot….?"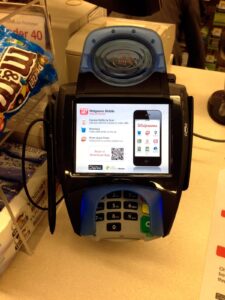 My iPhone displayed a greyed-out fingerprint logo, similar to the one presented when setting up Touch ID on an iPhone 5s or higher.  I pressed my thumb on the home button and the lines started swirling around and began to fill in with white. It didn't outright say it, but the animation gave off a "please wait, scanning" vibe. About one second later, the fingerprint logo was replaced with a pleasing checkmark, and the cashier's monitor flashed ACCEPTED in big bold letters. I couldn't tell if the cashier's confusion grew or subsided from this, but she handed me my lunch and I was on my way.
Overall, the process was quick and (contrary to my title) a little underwhelming. Which is probably a good thing. Purchases shouldn't be complex and intricate procedures; they're SUPPOSED to be quick and easy.  I was also happy to see Apple Pay work with a small merchant that had an NFC-capable checkout system. Now that I have that first purchase under my belt, I'm excited to continue using Apple Pay as more banks become supported and additional merchants begin offering NFC transactions.