A few weeks ago I attended one of the newest tech meetup groups in the Minneapolis – Healthcare.mn. The event was hosted at CoCo Minneapolis, and saw around 40 attendees with experience ranging from local health-business founders to MD's and UofM medical students, to health and innovation enthusiasts.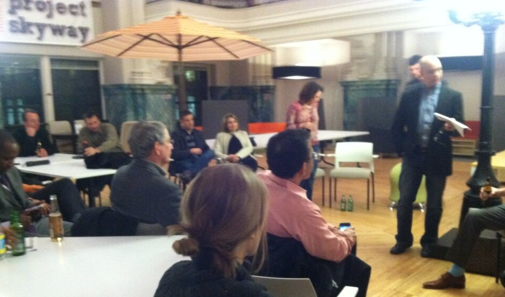 Marti Nyman, the speaker at the meetup, is the Director of Innovation at UnitedHealth Group and is responsible for the growth and development of the company's innovation portfolio (more here). Marti is leading the initiative at UnitedHealth to foster better relationships with local innovative health entrepreneurs.
Marti said that compared to funded health startups elsewhere, very little is money is spent in the Minnesota startup space. The competition and lack of funding in MN, however is and isn't the issue. The solution? "Build a strong company and the money will come to you, not the other way around."
Insider tips for creating a successful Health Care Startup:
Do your research. Know the real problems for that have yet to be solved. If there is a "solution" already in place and you are trying to do it better, why is your solution better?
Show you can cut major costs. If it's just a marginal change in cost you won't grasp anyone's attention.
Make sure you know the problem you are solving is a real problem. Prove it is real with evidence: market research and even a beta version you have tried with real participants.
If you want to get in and speak with the large companies like Medica, BlueCross, Unitedhealth don't reach out to the executives, you need to find and get ahold of the people that are in charge of innovation. These movers and shakers are the ones who might have the time to hear your pitch.
Lastly, if you can change the health industry employee's daily routine to make them more excited to go to work in the morning, it will make a positive impression.
Watch for the next meetup event here, or to stay up to date with what heath related startups are in the Minnesota at healthcare.mn —  make sure to checkout the map of all health startups in Minnesota.
If you are ready to start your own health startup, contact us. We are ready to be your engineering team.