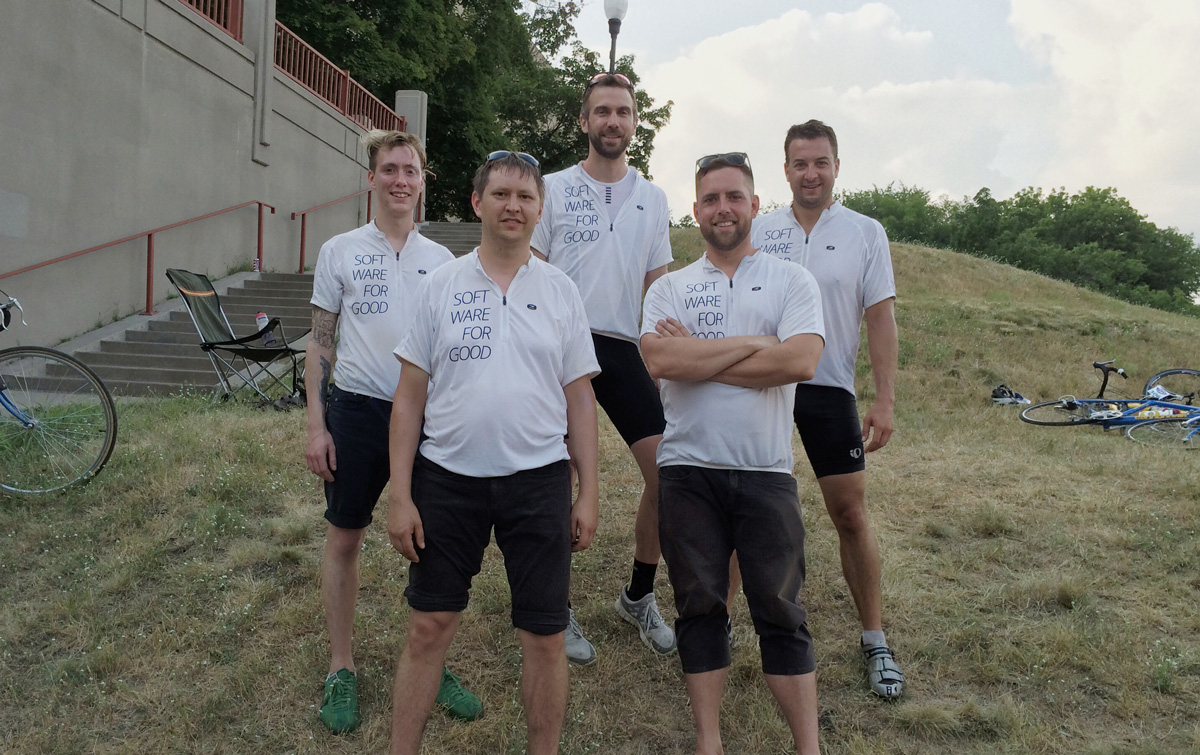 Oh, the Powderhorn 24. Where do I even begin? Let's start at the beginning. What is the Powderhorn 24, you ask? Well, it's a 24-hour community bicycling event (not a bike race, as they're quick to point out, but it's still kinda a bike race) that weaves its way through the Powderhorn neighborhood of South Minneapolis. The entire event is run by volunteers, and while it's not a registered non-profit event, the founders spend every penny raised making sure the event is amazing for participants and that neighborhood pride is placed front and center.
So, 24 hours? You're crazy, right? Well, yes — but not really. There are a couple ways you can participate in the event. The first way is as a solo rider, which is exactly as it sounds: you ride by yourself (or with friends, but your laps count towards your singular total). The second is as a team, which again is pretty self explanatory. Ride one at a time and change off whenever you want to. The last way to participate is as a spectator. So many people just came down to hang out, eat tacos, drink beer and share in the awesome that is the Powderhorn 24. There's bound to be good times when you get a community of cyclists together for a full 24-hour ride event, participating in fun local activities along the way.
Software for Good rode as a team. As first-timers, we knew we were in for a wild time and didn't want to go it alone. So we bound together as bros and took two-lap turns from start to finish. A few of us snuck naps in between our turns, stoked the charcoal grill we were using like a campfire to stay warm during the wee hours of the night, and took turns running across the greenway to snag tacos from local fave Taco Cat (was it coincidence that their tent was set up directly across from us? I don't think so).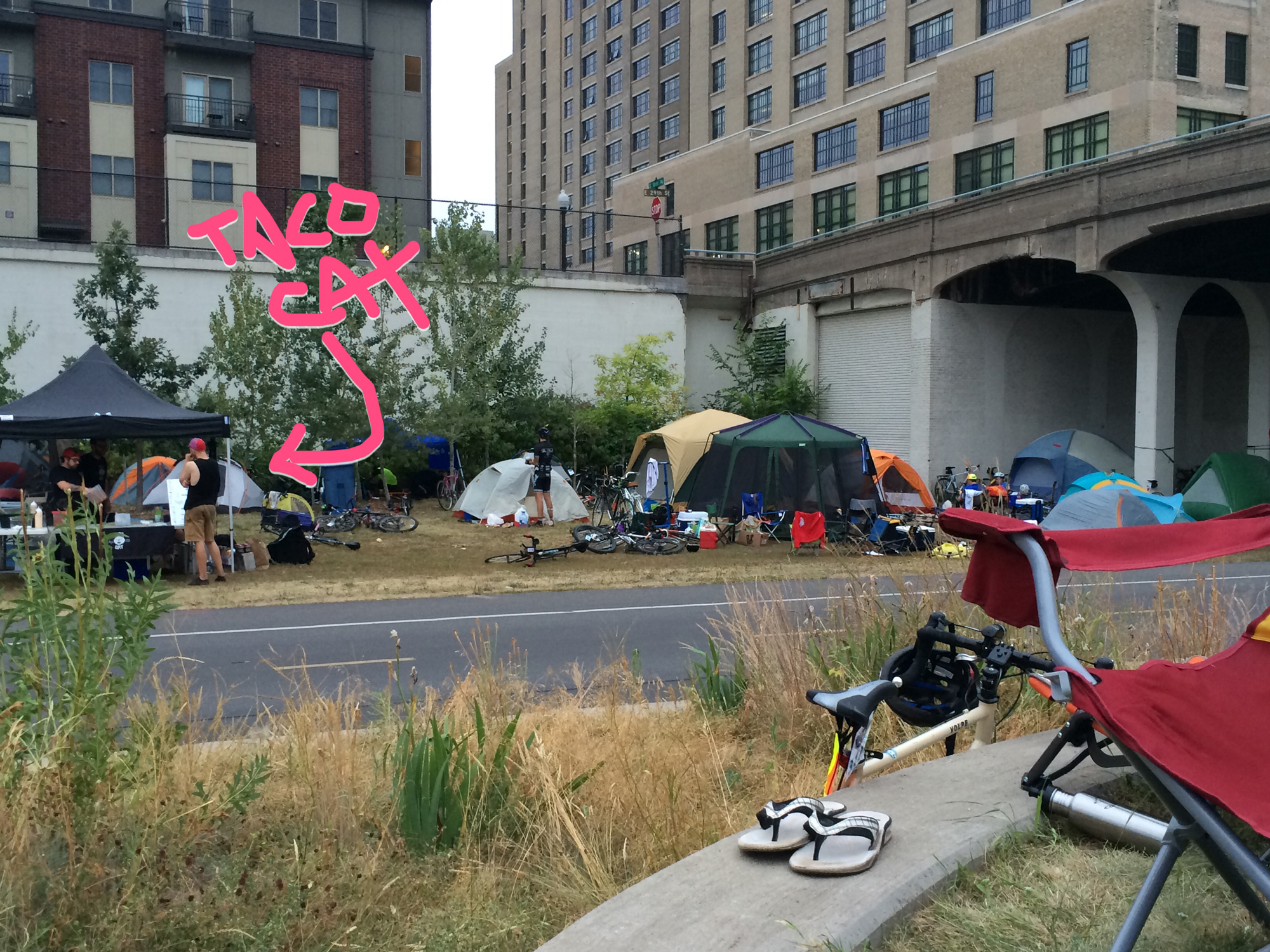 As the night wore on, the event actually got more exciting. Once it starts getting dark, the organizers start rolling out "Bonus Lap" events. Laps are scored at one point per lap, but if you participate in one of their fun, weird, wild community-based events, you get an extra two points added to your lap total. And with events like Black Metal Band-inspired face painting, spinning honeycomb on a custom bicycle, learning to play the ukulele, painting pottery for charity, or even taking a lap on a NiceRide, why WOULDN'T you want to snag the bonus points?!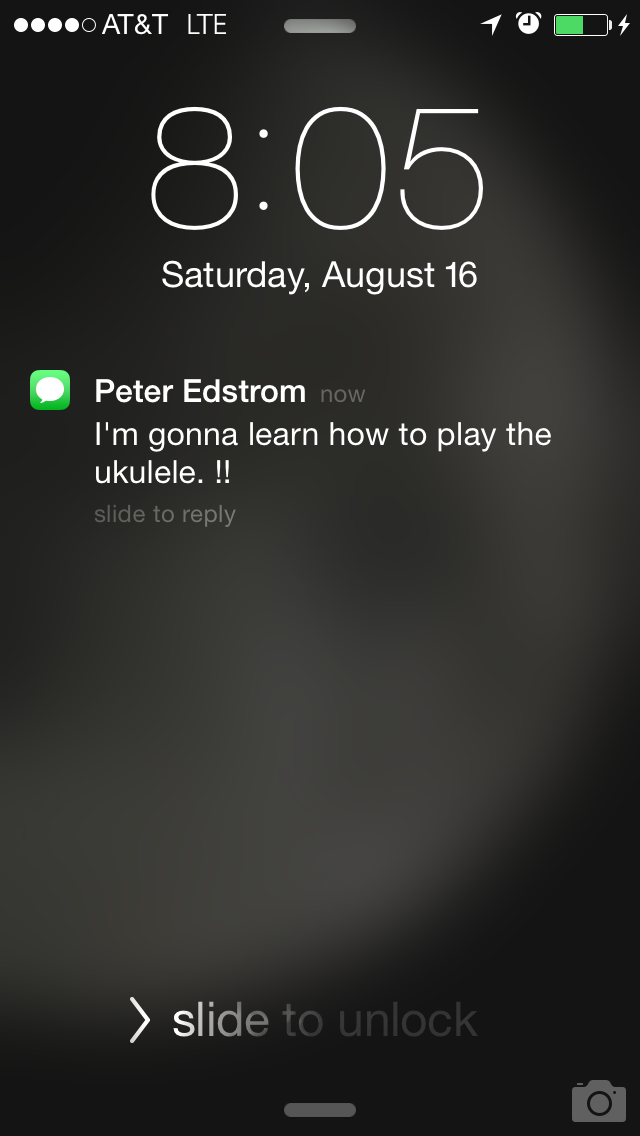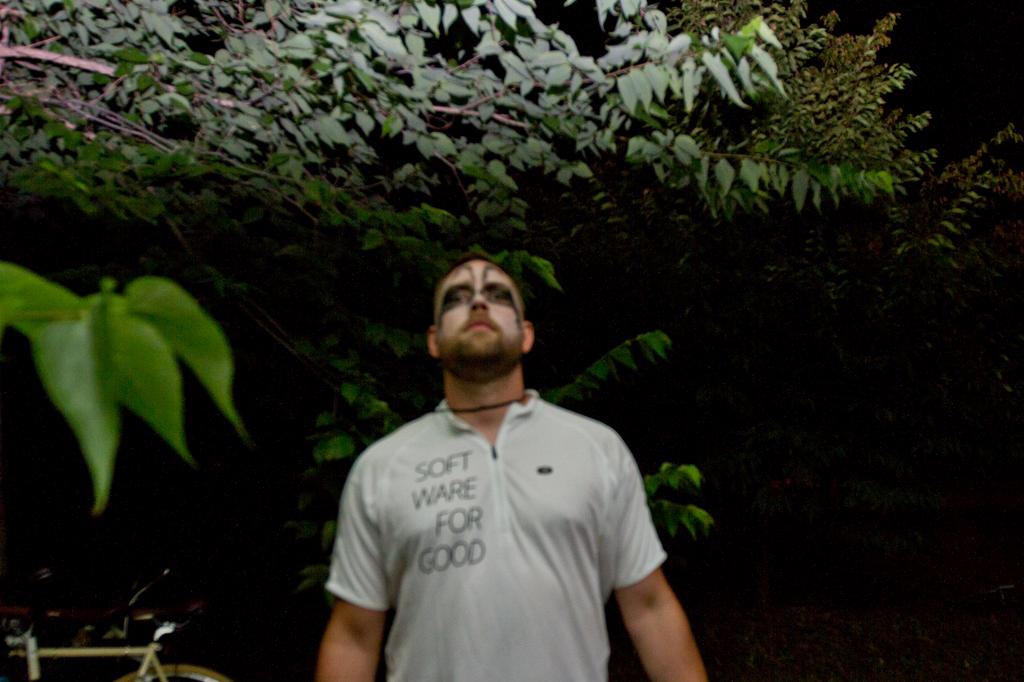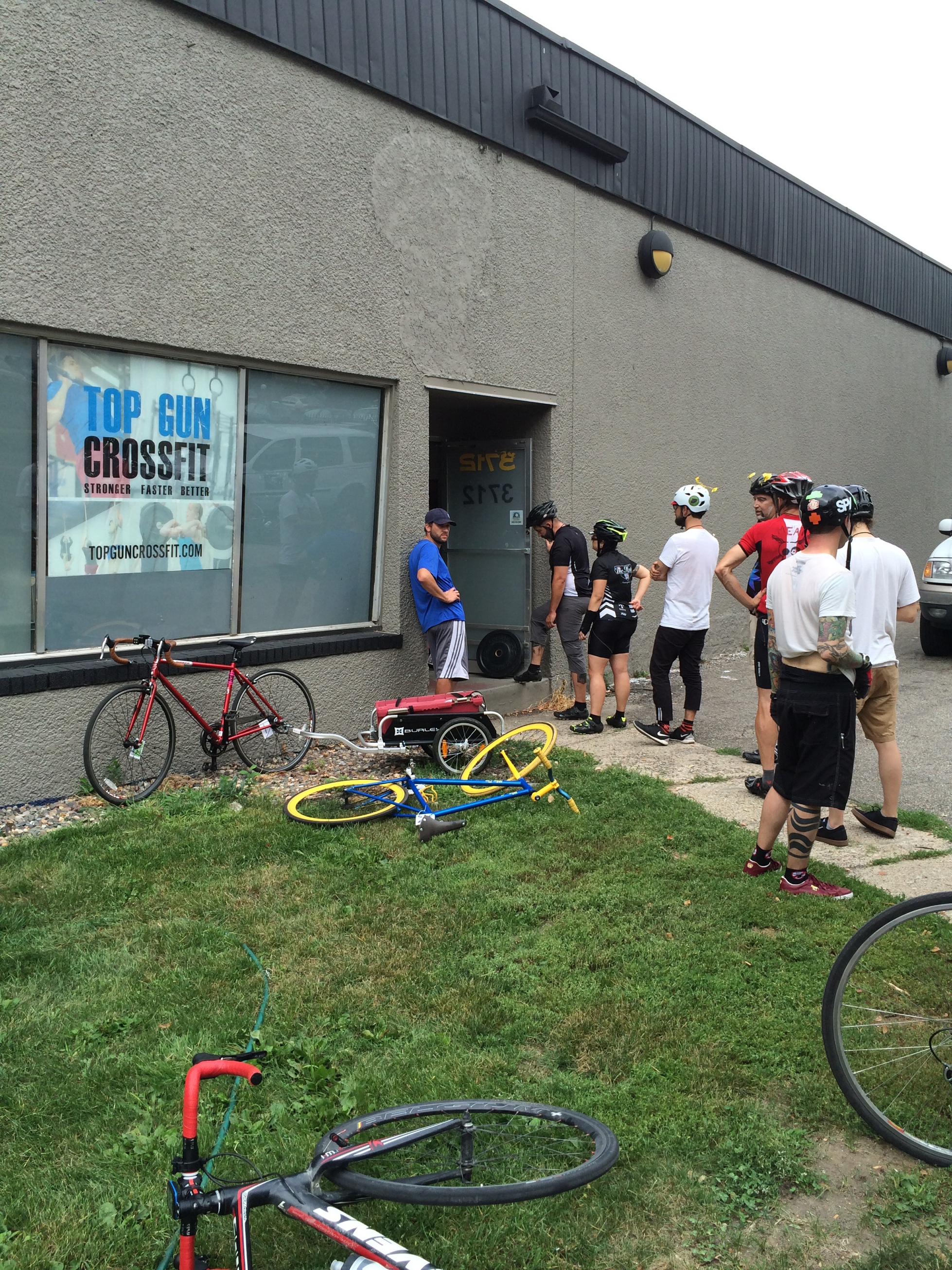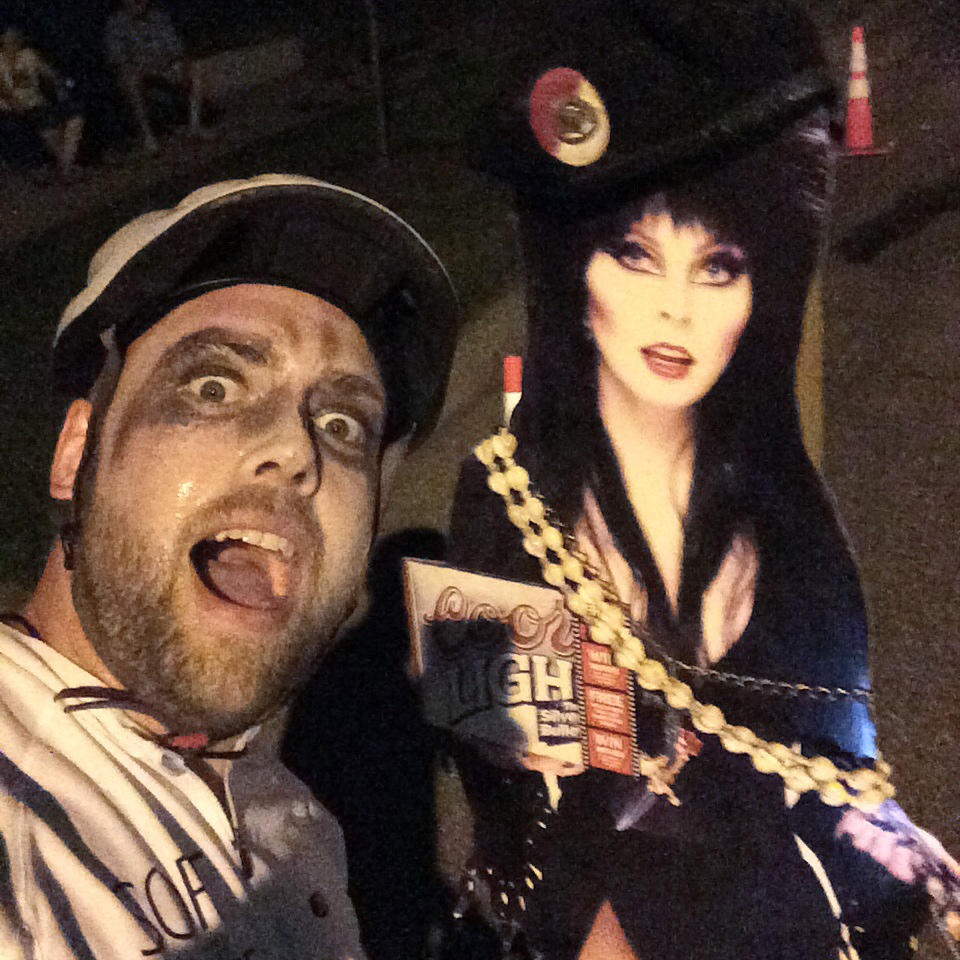 Hey, look, Elvira was hanging out in someone's front yard.
As night turned back into day, the excitement grew…or maybe people who actually went to sleep for a bit started waking up so it just felt more exciting? But it was a beautiful day and we all felt the home stretch was in front of us. Right around lunch time it started getting pretty hot, which at first felt like it would be a pretty big pain, but we were in for a surprise. Local residents started setting up their sprinklers in the street, spraying riders with hoses as they passed or even running beside us with spray bottles to mist our faces as we went by. It was one of those moments that reminds you how amazing it is to be part of humanity and how silly little things like a bike race can actually be amazing community-building and binding events that reach so much further than the neighborhood where they take place.
The ride ended officially at 7:00pm on Saturday. Teams raced to get in as many laps as they could before the time expired. As the minutes ticked away, the crowd around the final check point grew larger and larger as fans, friends, neighbors, and the riders who'd already called it a day (like me) gathered around to cheer those who were cutting it just under the wire. 500+ people huddled around the finish line, roaring as each rider came around the corner to make the final stretch, is a moment I'll not soon forget.
We were all pretty delirious by the end, but filled with this amazing sense of accomplishment. As a team, we did 57 laps or 285 miles. We took 3rd in the Men's Team Division, but sadly missed the award ceremony because we all pretty much passed out in the passenger seat of our rides home. Fortunately, Brad, Casey, and Ryan (kinda…see if you can find him) managed to get into the big group photo after the event, confirming our team existed and the event was real. But what a time was had by all. We raced with friends, rode with strangers, hopped jumps in random front yards, ate tacos under the night sky, and celebrated how much fun it is to live in this city and to ride a bicycle through it…no matter how ridiculously tired you may be.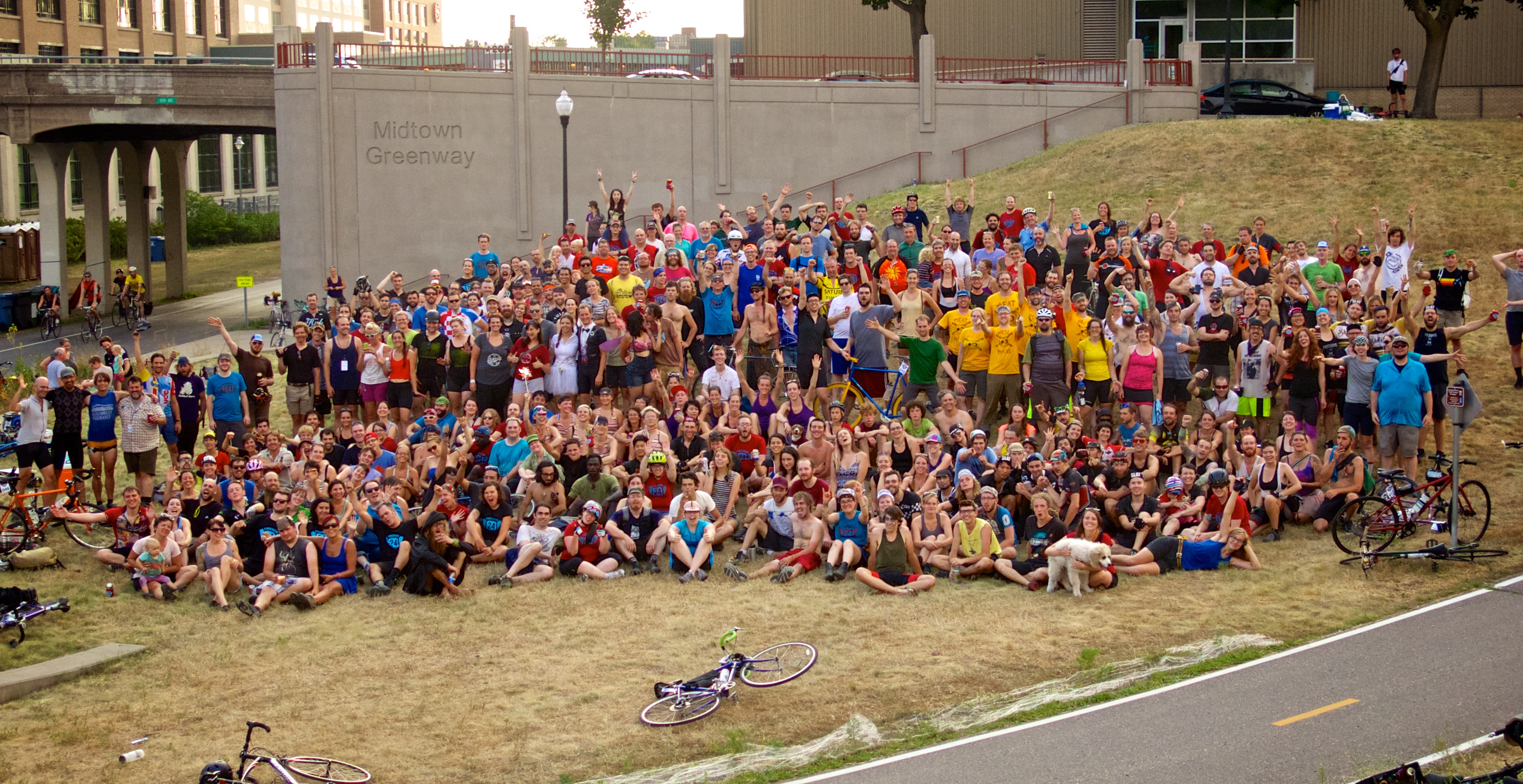 Hint: Ryan's waiting for a ride home.
A few more random photos from the event below.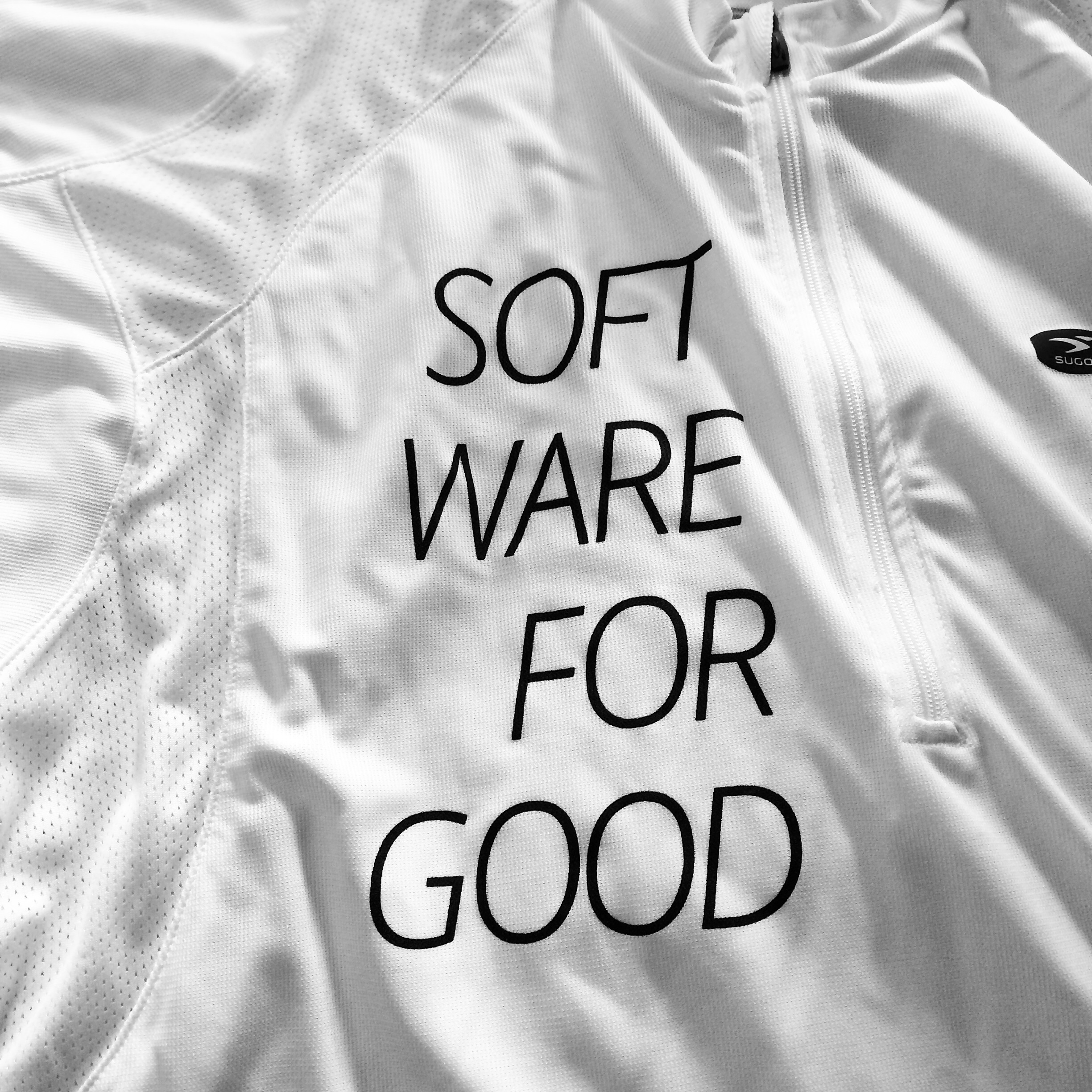 Nice jerseys.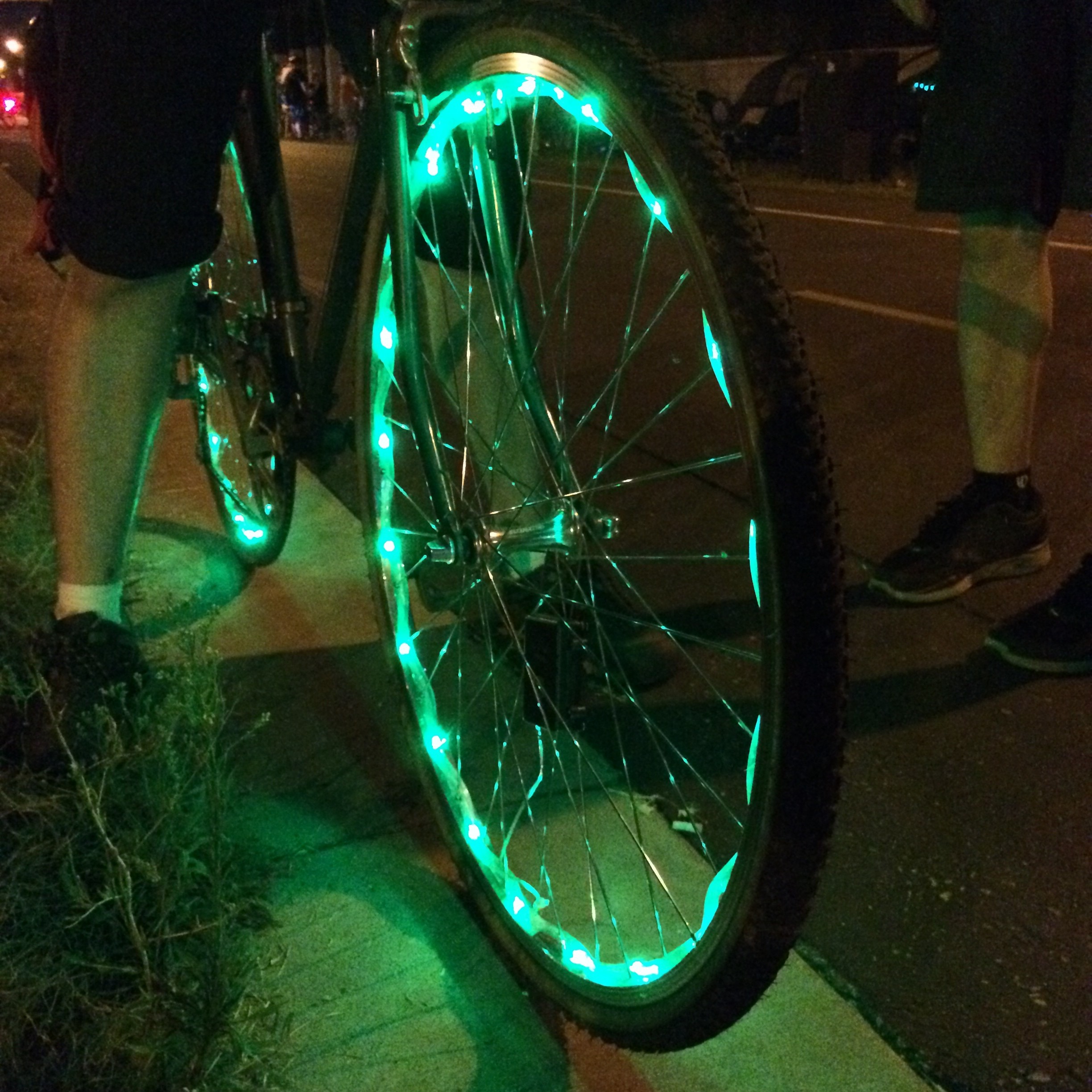 Peter's light-up wheels at like 1am.
Ryan's super excited to grill.
Jamey & Brad escaping the heat in the final hour of the event.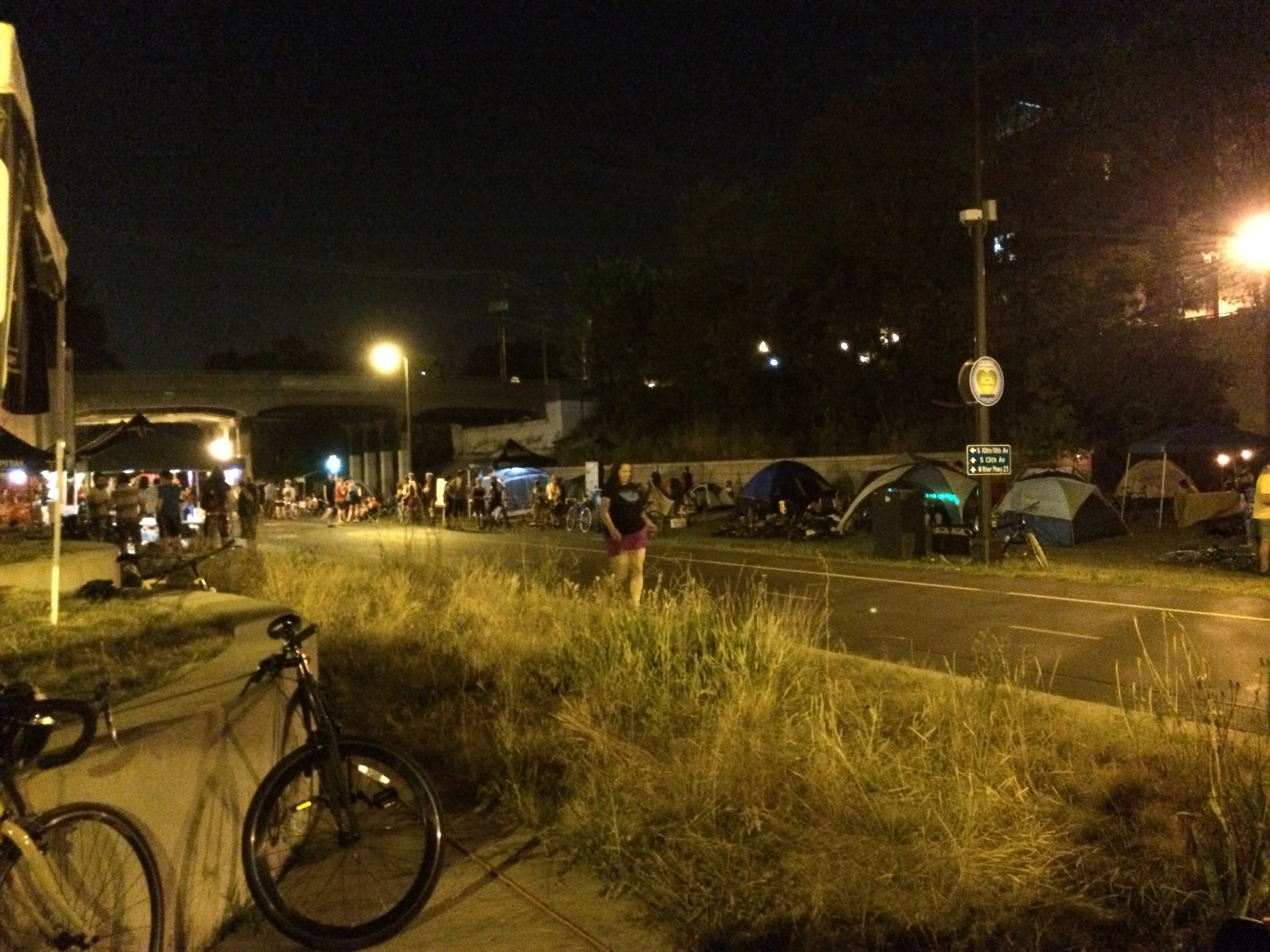 Night rides.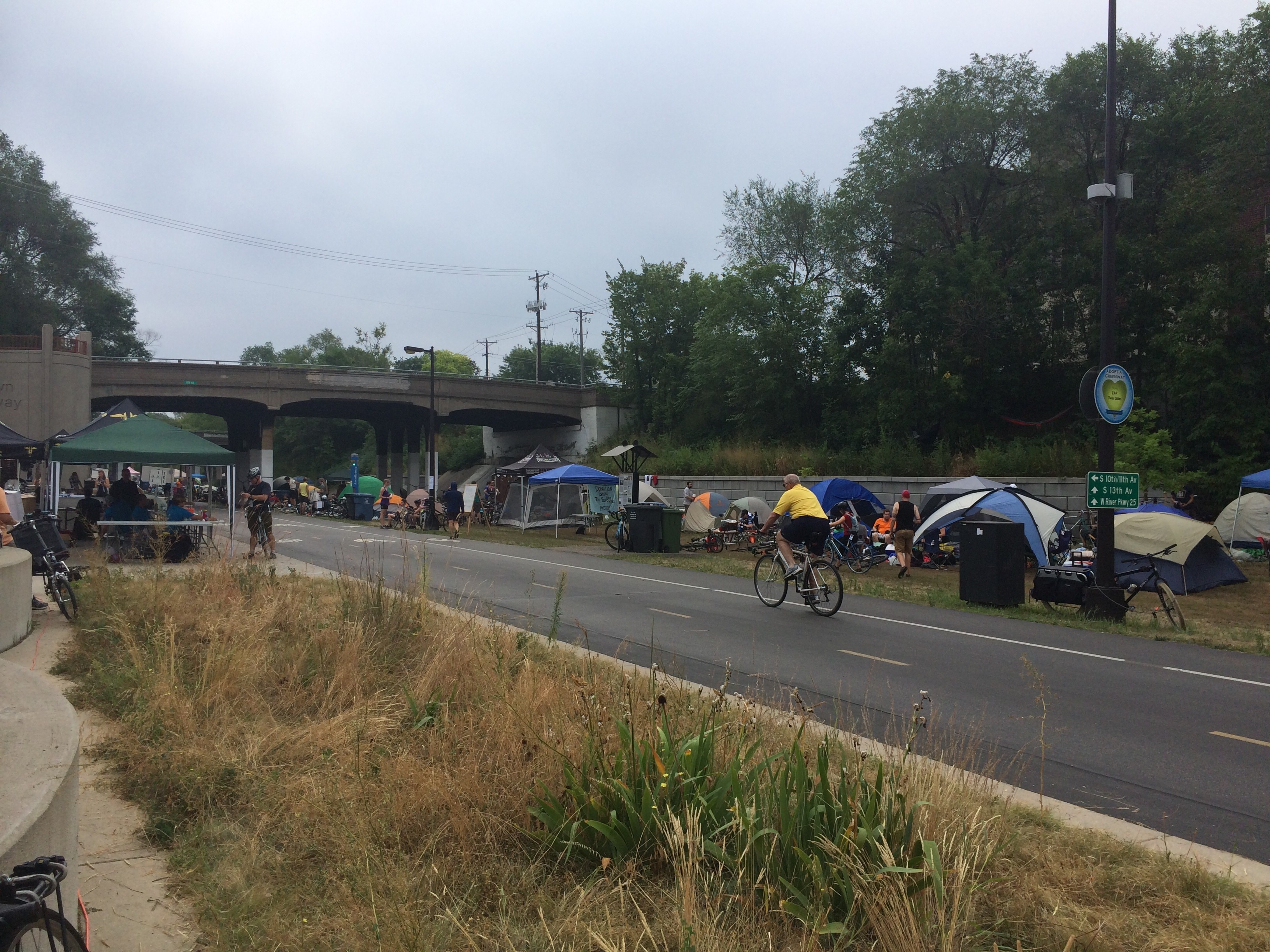 Tent town in the early morning.