A guest post by the FTC Rubies. 
Hello! We are the Rubies, an all-girls robotics team from Minneapolis, MN. Our team participates in FIRST Tech Challenge (FTC), a robotics program for middle and high schoolers. In this program, our team builds an 18 x 18 x 18 inch robot and programs it to do specific tasks in the Java language while recording the process throughout the season in a detailed engineering notebook. Teams are also judged on their community and business outreach, while educating others about STEM and robotics programs.
Our team's mission is to empower underrepresented groups in STEM and create sustainable robotics programs in Minneapolis while continuing to improve our technical skills in order to create more competitive robots year after year.
This year, our team has focused on growing FIRST robotics programs in Minneapolis to allow students from any background to have access to robotics. Last year we were the only team from Minneapolis Public Schools, but this year we played an instrumental role in the creation of five new FTC teams. We mentor six FLL teams and the five new FTC teams on a weekly basis. Part of our contribution to sustainability in Minneapolis robotics is to create educated and passionate coaches who can continue to serve the students in our community and to expand the program well into the future.
We are the FTC ambassadors for the Minneapolis Urban Robotics Alliance (MURA) and use this alliance to establish a FIRST Community within Minneapolis as well as to advocate for all students. We are committed to empowering underrepresented groups in STEM, and ensuring that all students have equal opportunities. This outreach is incredibly important to us because we know that we are making a strong impact on our community by creating equal access.
Our team strives to always continue to learn new technical skills as well. Each year a new game is released, and we build a robot to accomplish tasks for the game. This season we have been utilizing professional software in our robot design, specifically CREO. We have designed our entire robot in CAD, as well as designing and printing custom 3D parts, such as our shooter. We worked very hard this year to create a reliable autonomous program, and a consistent shooter system. To learn more about the game for which we built the robot, visit https://goo.gl/ALFWMQ.
Through our participation we have learned a variety of technical skills such as how to program in Java, use CREO, and follow the engineering design process. We have also grown our personal soft skills, such as public speaking, teamwork, and improved self confidence. Robotics programs have shaped us a lot into the people we are today, and this is why it is incredibly important to give all students access to this type of an education.
Software for Good has supported us this whole season. They have been amazing sponsors and mentored us throughout the season, teaching us how to clean up the code and make it more efficient. Working with Software for Good was a great experience for our team, as we had the opportunity to meet with STEM professionals and learn more about careers. Without Software for Good, our success this season would not have been possible! Thanks Software for Good!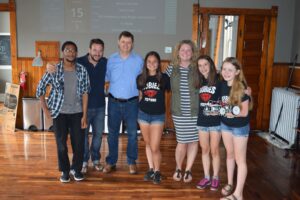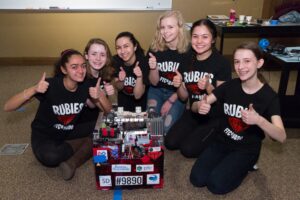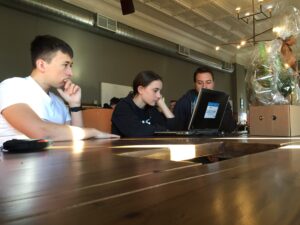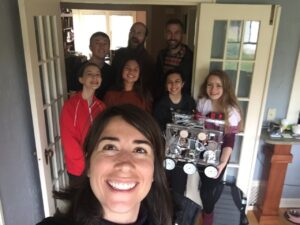 To learn more about our team, visit http://ftcrubies.weebly.com/
To learn more about the FIRST Tech Challenge program, visit https://www.firstinspires.org/robotics/ftc