As a Public Benefit Corporation registered with the state of Minnesota, Software for Good must report on our impact each year. Read highlights from our year in the annual report!
Impact Highlights
$1,045,388
value of work for mission-based projects
198
average number of PTO hours logged by each SfG team member
• Partnered with the City of Saint Paul on a variety of projects, including their digital transformation and new tools to improve resident engagement and delivery of services.
• Built a mobile app to help the Alliance for a Better Minnesota investigate the money behind political ads.
• Helped MinnPost increase donations and engagement with their nonprofit journalism through user research, strategic user experience improvements, and Salesforce updates.
• Transferred an online parenting course for military families, ADAPTonline, to a new platform, and built a registration portal for participants.
• Supported the Epilepsy Foundation of Minnesota with a newly designed website, plus Salesforce integrations to drive the clothing donations that provide much of their funding.
• Invited future AmeriCorps members to explore opportunities for service with a new website for ServeMinnesota.
• Showcased Eureka Recycling's work and zero waste advocacy with a newly designed website, including an app integration to help users answer, "Can I recycle this?"
• … plus ongoing projects furthering work in areas like LGBTQ+ healthcare, community solar power, patient care for burn victims, animal welfare, and forest conservation.
A Team Effort
Our people are the heart of Software for Good. We have thoughtfully grown our team over time, hiring professionals who are as passionate about our mission as they are skilled in our trade. In 2019, we continued to support our employees' full selves with unlimited paid time off, generous parental leave, and funding for professional development. Our team grew with the addition of two senior software engineers, Sarah Sprague and Chris Warren, and project manager Laney Barhaugh.
We also expanded our leadership team, as longtime senior application architect Kevin Bullock became our Director of Engineering. Kevin now leads our development team, continues to provide mentorship to fellow programmers, and helps shape our company's goals and decisions alongside CEO Casey Helbling and Director of Product Strategy Liz Tupper.
While we strive to maintain a flat structure that gives everyone on the Software for Good team a voice in our organization's growth and impact, we rely on the leadership and counsel of this small team committed to maintaining the balance of People, Planet, and Profit. Their work is guided by the expertise and experience of outside advisors within the business, technology, and social enterprise sectors.
Defining & Living Our Values
As a team, we stay grounded in shared values like caring for people and the planet, and giving back to our communities. As Software for Good has grown and evolved, however, we've felt the need to more clearly define those ideals and goals.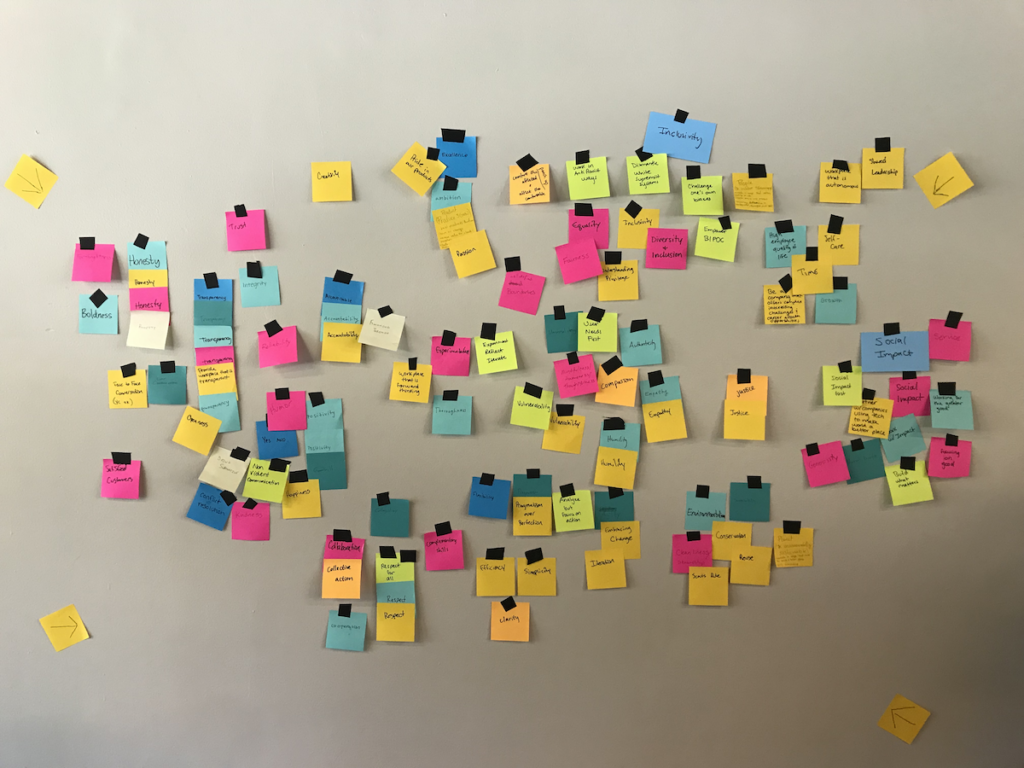 In August, we gathered as a team to share our own personal values and suggest the principles that should drive the company. Through brainstorming and clustering ideas by themes, followed by voting, we created this list:
1. Open & honest communication
2. Holding ourselves & others accountable for high-integrity work
3. High employee quality of life
4. Collaboration
5. Social justice & inclusion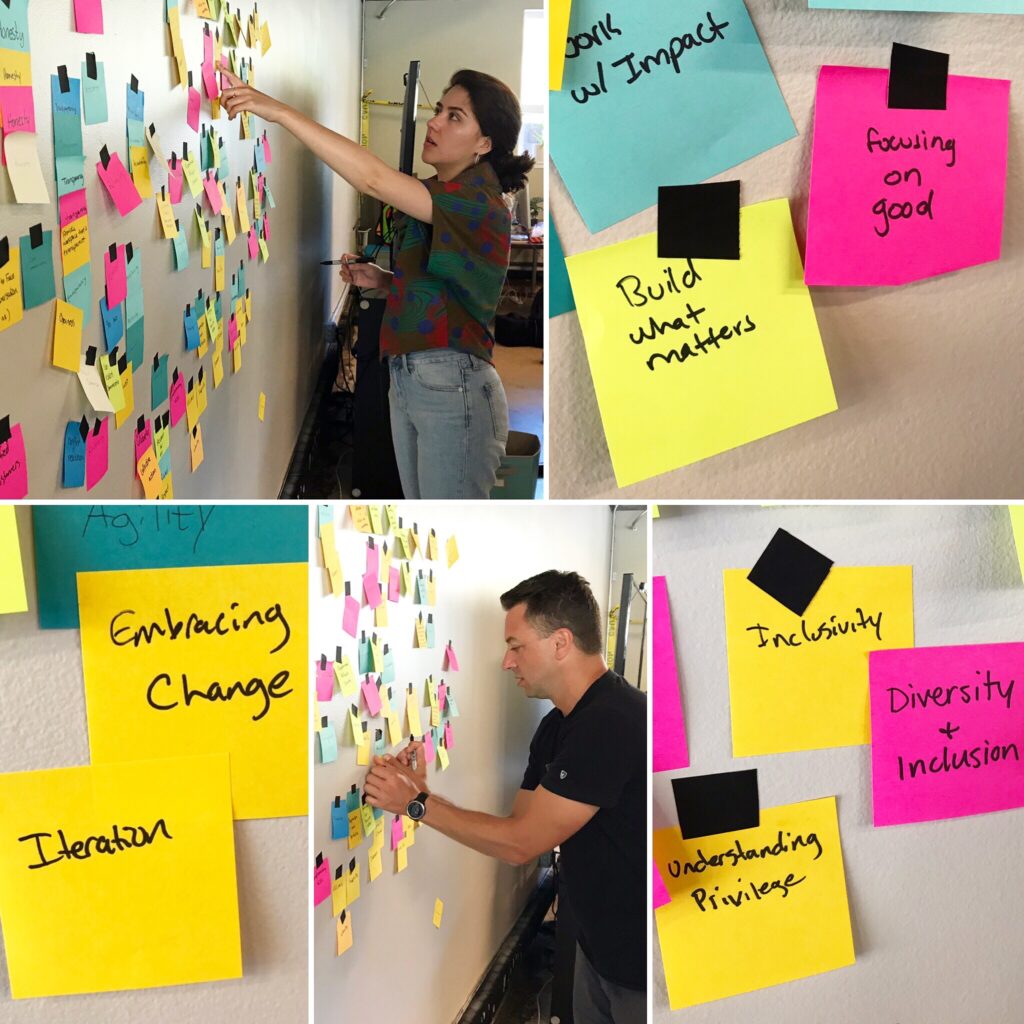 Besides our regular projects and giving program, our values have led us to community involvement such as:
• Sponsoring a conversation on diversity and inclusion in the tech industry hosted by Congresswoman Ilhan Omar, as part of Minneapolis Black Business Week
• Attending and sponsoring the Trans Equity Summit in Minneapolis alongside our client JustUs Health
• Participating in Tech Impact Day, a day of skills-based volunteering that pairs tech industry professionals with nonprofit organizations
• Being part of World Usability Day, where our Director of Product Strategy Liz Tup- per spoke about our empathy-driven work with The Arc Minnesota
• Marching in the Twin Cities Pride parade with other companies and organizations representing the Minnesota tech industry
• Volunteering at The Sheridan Story, which provides meals to schoolchildren and their families facing food insecurity
• Hosting a coffee hour for benefit corporations and social enterprises, in partnership with fellow B corp Next Day Animations
Supporting the Next Generation of Tech for Good
Our Giving Program entered its third year, with four interns joining us over the summer to learn and practice hands-on skills of software development, project management, and working with clients and teams. Gauri, Meghraj, Tianna, and Yasmeen worked together to build STEMscape, a web application created by Community Building Tutors to match classrooms of college students with grade schoolers for tutoring.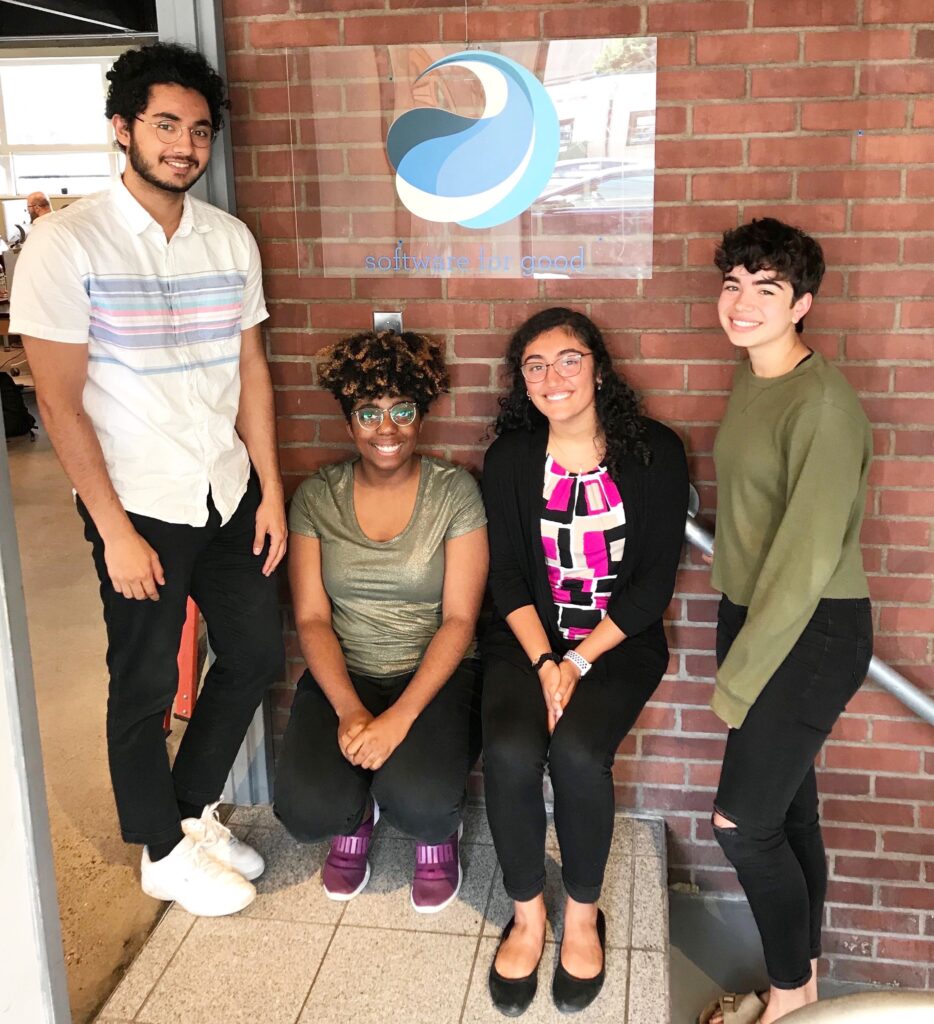 Our internships would not be possible without SciTechsperience, a program of the Minnesota High Tech Association that hosts a job board for STEM internships and provides wage matching to help us pay our interns. In February, we got to share the value that SciTech offers us and the tech workforce: Our CEO Casey Helbling and intern- turned-full time developer Annie Tran spoke in support of the program in front of the Minnesota House Jobs and Economic Development Finance Commission at the state legislature.
We also formed a new partnership this year that allows us to provide tech training and mentorship to students as early as elementary school. We connected with ANEW BAM, a nonprofit that provides educational programs for African American youth, when we hosted a mini-hackathon with their summer STEM program. Our interns and staff led the youth through activities to imagine, sketch, and code their own apps, while sharing how we use technology for social impact.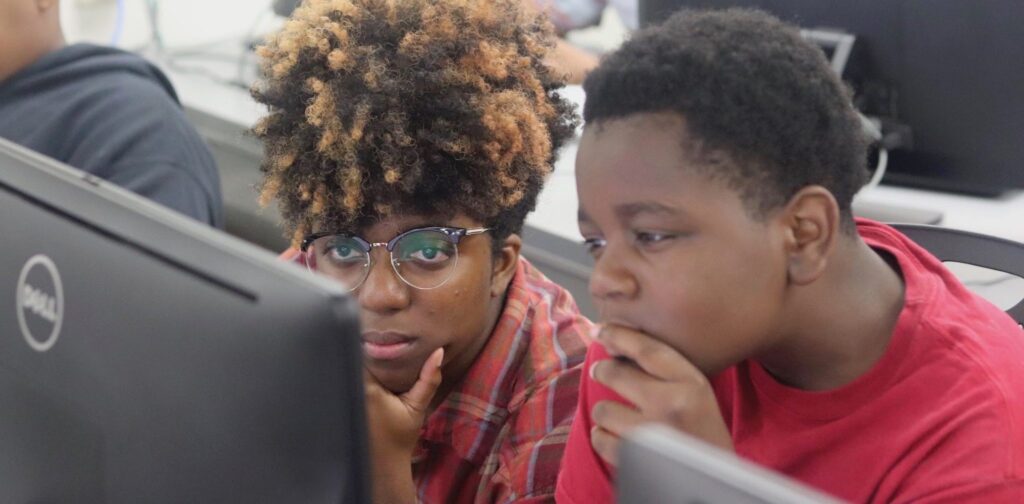 In the fall, we launched a longer-term program with ANEW BAM, hosting four middle school and high school students at our office each week to learn and practice web development skills. Through a connection with our client Binary Bridge and the Minnesota-based NGO Matter, we worked on a website for a hospital, school, and rescue center in Nairobi called Cana Family Life. The students gained hands-on experience and confidence in their ability to pursue careers in technology — and the chance to use their skills for good.
Civic Tech for Good
Our work with the City of Saint Paul deepened and expanded in 2019, as we worked with the city to:
• Build a new application for managing the Right Track youth employment program
• Support the launch of College Bound, a new initiative to create a college savings account for all children born in Saint Paul
• Explore the Department of Safety & Inspections' content and user experience, with input from residents about business licensing, construction permits, and more
• Make urgent fixes to the city's mobile app for snow emergency alerts
• Offer tech mentorship and consulting to the city's growing team of developers
Through this work, we've continued to dive into the world of civic tech, a movement of government officials, technologists, nonprofit professionals, and more who are driven by a desire to make government services work better for people and communities.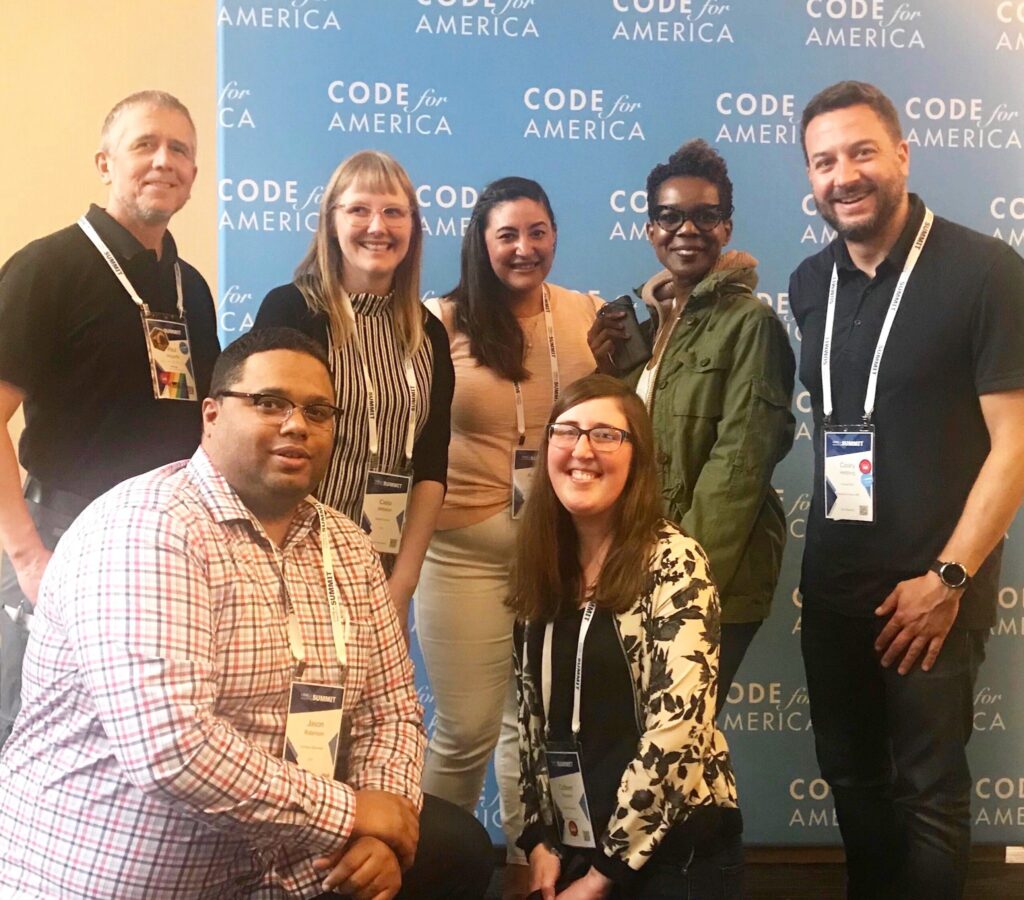 Many government tech tools are limited by outdated systems and poor user experience — which can have a huge negative impact on users trying to, say, apply for food assistance or pay a water bill. One leader in transforming government for the better is Code for America, a nonprofit that builds tools, conducts research, and stewards a network of local volunteer groups.
In May, our CEO Casey Helbling and content strategist Colleen Powers attended the Code for America Summit in Oakland alongside colleagues from the City of Saint Paul. The summit gave us an opportunity to connect with civic technology leaders from around the country and see how local, state, and federal agencies are using tech for good.
We also got to work on civic tech ideas through Code Switch, the community-focused hackathon we co-host with Open Twin Cities (a local brigade of Code for America) and Techquity. This year's event coincided with the National Day of Civic Hacking, an initiative by Code for America. CfA senior program manager Veronica Young joined us in Saint Paul for the occasion and participated in the hackathon.
More than 60 students, tech and nonprofit professionals, and other enthusiasts
built projects over the course of the weekend. Ideas ranged from a platform for tech professionals from marginalized communities, to a policy proposal aimed at solving homelesness. With a focus this year on creating ideas with real-world impact — not just what can be coded in a weekend — Code Switch engaged people across industries in using technology and data for good.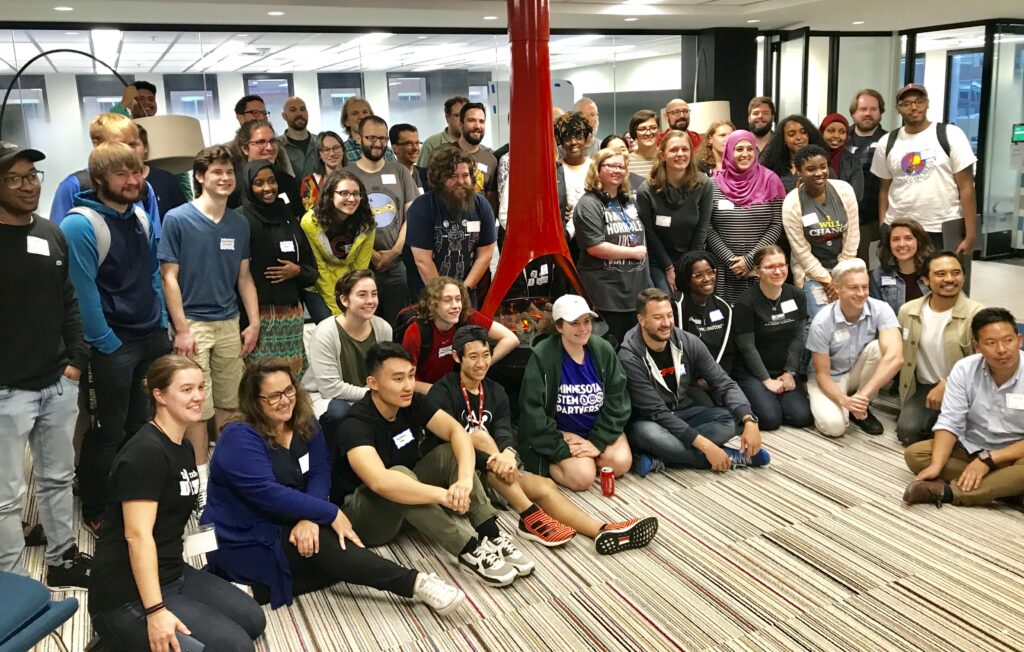 We are proud to be a benefit corporation and subscribe to the Triple Bottom Line of People, Planet, and Profit. The Software for Good team is driven by a shared passion for using technology to make a positive impact on the communities in which we live and work.